Hydrogen oxidation and oxygen reduction reactions catalyzed by bioinspired catalysts and enzymes connected on nanostructured electrodes : design of platinum-free H2/air fuel cells.
Enzymes et catalyseurs bio-inspirés immobilisés sur électrodes nanostructurées pour l'élaboration de piles H2/air sans métaux nobles
New energy technologies alternative to fossil fuels utilization is a key issue to mitigate greenhouse gases emission and develop a sustainable economy. In this context, platinum-based proton exchange membrane fuel cells use oxygen reduction reaction (ORR) and hydrogen oxidation reaction (HOR) to convert chemical energy into electrical energy. In nature multicopper oxidases and hydrogenases catalyze these two reactions, respectively. These enzymes and corresponding bioinspired catalysts have been used as alternatives to the rare and expensive platinum metal. First, a mononuclear bis-diphosphine nickel complex surrounded by arginine residues was immobilized onto carbon nanotubes (CNTs) and demonstrated excellent performances for HOR developing high current densities over a wide range of pH. This anode was integrated in a PEMFC, which achieved high power densities (15 mW cm-2), only five times lower as compared to classical PEMFC prepared under similar conditions. Regarding ORR catalysis, we covalently grafted LLaccases from Trametes sp C30 multicopper oxidases onto NTCs electrodes and achieved direct electron transfer. Using, bilirubin oxidase deposited on CNTs at the cathode side, we proposed a new concept of hybrid enzymatic/bio-inspired H2/air fuel cell. This hydrogen fuel cell delivered 1.8 mW.cm-2 and a high open circuit voltage of 1V. Finally, various copper complexes inspired from the active sites of copper enzymes were assessed for ORR and the first H2/air fuel cell containing noble metal-free molecular catalysts at both electrodes is reported, achieving 160 µW.cm-2 power density.
Le développement de technologies de l'énergie alternatives à la combustion des ressources fossiles est un enjeu majeur pour réduire l'émission des gaz à effet de serre et développer une économie durable. Dans cette optique, les piles à combustible à membrane échangeuses de protons (PEMFC) utilisent le platine en tant que catalyseur pour transformer l'énergie chimique en énergie électrique, en réduisant l'oxygène de l'air en eau et en oxydant l'hydrogène en protons. Dans la nature, les enzymes à cuivre et les hydrogénases catalysent respectivement ces réactions. Ces dernières, ainsi que des complexes bio-inspirés de leur site actif, ont été envisagés en tant qu'alternatives au platine, métal noble et coûteux. Ainsi, un complexe mononucléaire bisdiphosphine de nickel renfermant des acides aminés arginines en troisième sphère de coordination a été immobilisé sur une matrice de nanotubes de carbone (NTCs). Cette anode a démontré d'excellentes performances pour oxyder l'hydrogène avec des densités de courant élevées et sur une large gamme de pH. Son utilisation dans une PEMFC a permis d'obtenir une densité de puissance de 15 mW.cm-2, seulement cinq fois inférieure à celle d'une pile classique à base de platine préparée dans les mêmes conditions. Concernant la catalyse de réduction de l'oxygène, des méthodes covalentes ont été développéespour réaliser la connexion électronique directe de laccase de Trametes sp C30, ainsi qu'un mutant de cetten enzymesur matrice de NTCs L''association du catalyseur de nickel avec une cathode à base de bilirubine oxydase immobilisée sur NTCs a permis de proposer un nouveau concept de pile hybride enzymatique/bio-inspirée. Une densité de puissance de l'ordre de 1,8 mW.cm-2 et une force électromotrice proche de 1V ont ainsi été mesurées pour cette pile sans métaux nobles. Le greffage de complexes de cuivre mono- et dinucléaires, bio-inspirés du site actif d'enzymes à cuivre et actifs vis-à-vis de la réduction de l'oxygène a enfin permis d'élaborer la première pile H2/air ne renfermant que des catalyseurs moléculaires et sans métaux nobles. Cette dernière délivre une densité de puissance de 160 µW.cm-2.
Fichier principal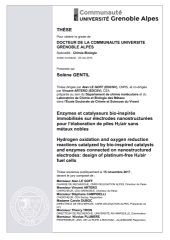 GENTIL_2017_diffusion.pdf (43.54 Mo)
Télécharger le fichier
Origin : Version validated by the jury (STAR)