From automobility to e-mobility : moving conservatisms?
De l'automobilité à l'électromobilité : des conservatismes en mouvement ? : la fabrique d'une politique publique rurale entre innovations et résistances
Renewed mobility policies have been developed since the mid-2000s in French rural areas, which are particularly car dependent. Local authorities have chosen to offer alternatives to automotive mobility. This thesis analyzes the emergence of public electric mobility policies, while national or European incentives encourage their development (cars, bicycles, charging stations). Do rural actors seize these incentives? And how? This study questions therefore the particular ways in which the incentive mechanisms related to electromobility in small rural communities are taken advantage of and how local authorities consent to this encouragement to change. The main hypothesis of this research is that the emergence of e-mobility in rural territories is elaborated and shaped by both local stakeholders and external actors, not always in consensual ways. With a multidisciplinary approach, we study the gradual deployment of e-mobility in two French territories, the Manche department and the Aveyron department. This study is based on the monitoring of several projects, and on interviews of local stakeholders.Our results show how e-mobility is used by local stakeholders to negotiate the turn toward a more sustainable rural transportation network and to reconsider the automobility system. It is seized, discussed, tested or rejected and might be integrated into a territorial strategy, depending on the resources and on the role of local actors.E-mobility is undertaken in several ways. First, it is implanted in a diversity of local public policies (tourism, social inclusion, environment), within smaller projects such as electric bike rental or electric car sharing system. It emerges through practical initiatives which stakeholders come up with in search of new mobility systems for the territory.Secondly, we show that e-mobility is a strategic tool, in larger projects (hydrogen, charging stations) in order to promote an energy system for the territory. In two territories historically shaped by electrical production (nuclear power and hydroelectric power), we demonstrate that e-mobility represents a powerful tool in the context of an energy transition, as it enables stakeholders to secure their role within these territories.The movement toward this innovation is made in the continuity of the rural and local policies, targetting isues such as tourism or local economy, and in connection with the national energy policies of energy transition. Finally, we hypothesize that these projects can also lead to discontinuities, to a reinvention of the rural, toward a new energy network, and new mobilities.
Les sociétés rurales sont caractérisées par des modes de vie et de déplacement quotidiens particulièrement dépendants du mode automobile, et la mobilité est, depuis longtemps déjà, un enjeu central des politiques publiques qui leur sont destinées. Les collectivités rurales sont prises dans une tension entre l'injonction à adopter des mobilités plus diversifiées, plus économes, et, en même temps, un climat d'incertitudes et des contraintes politiques et budgétaires qui freinent les choix de rupture. La thèse analyse les conditions d'émergence d'une offre de publique en faveur de l'électromobilité alors qu'une multitude de dispositifs encouragent l'introduction de voitures électriques, de vélos à assistance électrique et de bornes de recharge. Les acteurs ruraux s'en saisissent-ils pour autant ? Et de quelle manière ? La recherche questionne donc les modalités particulières du saisissement des instruments d'incitation liés à l'électromobilité dans les petites collectivités rurales et étudie la manière dont celles-ci acceptent, en la reformulant, cette injonction à la modernité et au changement. L'hypothèse centrale de cette thèse est que l'émergence de l'offre électromobile dans le monde rural fait l'objet d'une construction et d'une mise en forme conjointe, mais loin d'être consensuelle, entre le monde local (usagers, élus, opérateurs privés) et les acteurs extérieurs. En mobilisant une approche pluridisciplinaire, le déploiement très progressif de l'électromobilité est analysé dans le cadre d'une démarche de recherche menée dans la Manche et en Aveyron. Après une contextualisation de l'émergence des politiques électromobiles dans les deux territoires étudiés, la thèse montre comment ce nouveau champ de l'action publique permet aux élus ruraux d'adopter avec prudence et sans renier l'automobilité auxquels ils restent attachés, un nouveau référentiel de mobilité durable. L'électromobilité est une proposition saisie ou détournée, discutée et expérimentée avant d'être éventuellement intégrée à une stratégie territoriale en fonction des ressources et du rôle de l'acteur local. Ensuite, après avoir constaté la très grande diversité des thématiques qui introduisent l'offre politique de l'électromobilité dans les territoires ruraux, la thèse propose une typologie pour mieux comprendre le foisonnement de micro-projets électromobiles et les visées auxquelles est censé répondre du point de vue des élus. L'appropriation de l'électromobilité est engagée via une pragmatique locale par des acteurs à la recherche d'un nouveau modèle d'aménagement rural. Nous montrons, à travers quelques projets de plus grande envergure visant à déployer des bornes de recherche ou des véhicules à hydrogène, que le déploiement électromobile est aussi un objet de pouvoir. Dans deux départements marqués historiquement par la production électrique (l'une d'origine nucléaire, l'autre hydroélectrique) et donc par les proximités historiques de l'industriel et du monde politique local, la thèse montre le saisissement stratégique de l'électromobilité par des acteurs locaux, comme les syndicats départementaux d'énergie. Il s'agit de promouvoir un nouveau modèle économico-énergétique territorial tout en maintenant les proximités politico-industrielles de toujours. L'un des principaux résultats est le constat de l'écart entre l'apparence d'intense renouvellement que relaient les discours et la mise en scène de l'offre politique et le saupoudrage presque anecdotique des projets réels. Ces démarches semblent porter les ferments d'une réinvention économique, territoriale et sociale du monde rural très ambiguë. D'un côté, l'électromobilité est utilisée au profit de stratégies de conservation de rapports de pouvoir, même si certaines formes d'appropriation de l'électromobilité reconfigurent discrètement les cadres de production des politiques publiques d'aménagement rural, débouchant sur une image de la transition mobilitaire rurale plurielle, sinon divergente
Fichier principal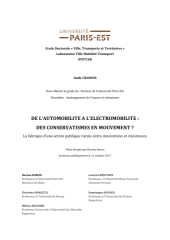 TH2017PESC1066.pdf (8.69 Mo)
Télécharger le fichier
Origin : Version validated by the jury (STAR)