The election rally speech : confrontation ritual, mediatizations, political communication election rally speech analysis for the French presidential elections (2002, 2007, 2012).
Le discours de meeting électoral : rituel d'affrontement, médiatisations, communication politique.Analyse du discours de meeting électoral pour l'électionprésidentielle française (2002, 2007, 2012)
This research focuses on a set of symbolic (ritual, progressive endorsement of the presidential role, transcendences mobilized, scenic imperatives), and sociopolitical pressures (individual paths, role of supporters, transformations of the audiences, interaction with other competitors, medias transformations), facing the rally speeches for the french presidential election. "Le changement c'est maintenant," "Ensemble, tout devient possible ", "Prenez le pouvoir": as the campaign for the presidential election has put in his heart that fundamental promise of "transformation of the reality", which could let presuppose freedom utterance of speakers, we show that the election rally speech is strongly constrained and determined. Thus, each candidate had to comply with an expected tacit discourse, while responding to messages renewal imperatives, inherent to any process of political legitimation through discourses. Here is summarized in a few lines the vocation of this study, based on the lexicometric exploration conducted with textual data analysis software Lexico 3 and argumentative, pragmatic, enunciative and timely narrative questionning of ninety-six election rally speeches, made during campaign periods called "official" by candidates to the presidential elections of 2002, 2007, 2012 in France.
Cette recherche porte sur un ensemble de déterminismes et contraintes d'ordre symbolique (rituel, endossement progressif du rôle présidentiel, transcendances mobilisables, impératifs scénographiques) et sociopolitique (trajectoires individuelles, rôle des appareils partisans, évolution des publics, interaction avec les autres compétiteurs et compétitrices, transformation des médias) qui pèsent sur le discours de meeting pour l'élection présidentielle française. « Le changement c'est maintenant », « Ensemble, tout devient possible », « Prenez le pouvoir » : alors que la campagne pour l'élection présidentielle vient placer en son coeur cette promesse fondamentale de « transformation du réel », ce qui pourrait laisser croire en une grande liberté énonciative des locuteurs et des locutrices, nous montrons ici qu'à l'inverse le discours de meeting électoral se trouve extraordinairement contraint et déterminé, que chaque candidat ou candidate doit se conformer à un faisceau d'attendus discursifs tacites, tout en répondant aux impératifs de renouvellement de messages inhérent à tout processus de légitimation politique par le discours.Voici résumée en quelques lignes la vocation de ce travail, fondé sur l'exploration lexicométrique menée avec le logiciel d'analyse de données textuelles Lexico 3, puis l'interrogation argumentative, pragmatico-énonciative et ponctuellement narrative d'unThèse préparée au CEDITEC, (Centre d'Étude des Discours, Images, Textes Écrits, Communication) Université Paris-Est Créteil Val-de-Marne (UPEC) Centre Pyramide – Bureau 405 80, avenue du Général de Gaulle 94000 Créteil Cedexcorpus composé de quatre-vingt-seize discours de meeting électoral, tenus lors de périodes de campagne dites « officielles », par les candidates et les candidats en lice pour les élections présidentielles de 2002, 2007, 2012 en France.
Fichier principal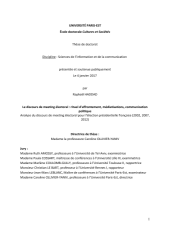 TH2017PESC0061.pdf (14.31 Mo)
Télécharger le fichier
Origin : Version validated by the jury (STAR)