Analysis of the info-communicationnal apparatus formed by an enterprise social network : which communication for which work?
Analyse du dispositif info-communicationnel formé par un réseau social d'entreprise : quelle communication, pour quel travail ?
Considering the enterprise social network as an hybrid info-communicational apparatus, this thesis aims to capture the different discourses that cross it, in a critical position of the managerial model that is supposed to lead to its integration into organizations. As this apparatus is located in a professional context, the research also reinterprets the notion of activity in the light of the representation of the enterprise social network as a new collaborative and knowledge management tool. In order to observe and understand the interactions that take place between the various elements of this apparatus, a plural methodology, essentially qualitative, has been put in place. This enabled to collect, examine and reconcile at the same time publications, interviews (individual and collective) and screen writings, by a discursive and semiotic analysis. Because one of the peculiarities of this apparatus is that it seems to convey a certain number of contradictions, even to cause pragmatic paradoxes, in particular because its principal mechanism rests on a permanent visibility.
Envisageant le réseau social d'entreprise comme un dispositif info-communicationnel hybride, cette thèse vise à saisir les différents discours qui le traversent, dans une position critique du modèle managérial qui est supposé mener à son intégration dans les organisations. Ce dispositif étant situé dans un contexte professionnel, la recherche menée réinterroge également la notion d'activité à l'aune de la représentation du réseau social d'entreprise en tant que nouvel outil collaboratif et de gestion des connaissances. Afin d'observer et de comprendre les interactions qui ont cours entre les différents éléments de ce dispositif, une méthodologie plurielle, essentiellement qualitative, a été mise en place. Celle-ci a permis de recueillir, examiner et rapprocher à la fois des publications, des entretiens (individuels et collectif) et des écrits d'écran, par une analyse discursive et sémiotique. Car l'une des particularités de ce dispositif est qu'il semble véhiculer un certain nombre de contradictions, voire provoquer des paradoxes pragmatiques, du fait notamment que son principal mécanisme repose sur une visibilité permanente
Fichier principal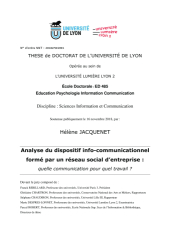 these_internet_jacquenet_h.pdf (26.2 Mo)
Télécharger le fichier
Origin : Version validated by the jury (STAR)