Socioeconomics of mobile money and local currencies in Kenya : What monetary innovations for which development?
Socioéconomie de la monnaie mobile et des monnaies locales au Kenya : quelles innovations monétaires pour quel développement ?
Monetary innovations, giving money new forms and characteristics, are now used to promote the process of economic development. In Kenya, they unfold in mobile money systems such as M-Pesa, as well as in several local currencies implemented on the model of the Bangla-Pesa. These monies have different natures and logics, and the thesis aims to show their impacts and implications. For this, we use data from two field surveys.Monetary innovations challenge development theories, which have largely excluded money from their analyzes, and which generally consider it to be neutral. The study of these schemes allow us to lay the foundations of a monetary theory of development. By doing so, we question the meaning of the concept of development, and the roles that money and finance have to play for it.
Des innovations monétaires, donnant à la monnaie des formes et des caractéristiques nouvelles, sont aujourd'hui utilisées dans le but de favoriser le processus de développement économique. Au Kenya, elles se concrétisent dans les systèmes de monnaie mobile tels que le M-Pesa, ainsi que dans plusieurs monnaies locales mises en place sur le modèle du Bangla-Pesa. Ces monnaies ont des natures et des logiques divergentes, dont la thèse vise à en montrer les impacts et les implications. Pour cela, nous utilisons notamment des données issues de deux enquêtes de terrain.Les innovations monétaires interpellent les théories du développement, qui ont largement exclu la monnaie de leurs analyses, et qui la considèrent généralement comme étant neutre. L'étude de ces dispositifs nous permet de poser les bases d'une théorie monétaire du développement, en questionnant ce faisant le sens à donner au concept de développement, et les rôles que doivent jouer pour celui-ci la monnaie et la finance.
Fichier principal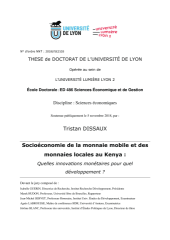 these_internet_dissaux_t.pdf (15.59 Mo)
Télécharger le fichier
Origin : Version validated by the jury (STAR)