Pluralism of farm advisory service and technological lock-in. The case of the reduction of pesticides in french seed potato supply chain.
Pluralisme des services de conseil et verrouillage technologique.Le cas de la réduction des pesticides dans la filière de plants de pomme de terre en France.
The adverse effects of pesticides on health and the environment are well known and different regulations aim at decreasing their use in the agricultural sector in France and Europe. However, this use does not decrease in practice. Agriculture is as of yet characterized in academic literature by a technological lock-in on an intensive use of pesticides. Analyses of technological lock-in have shown that one solution is to produce knowledge on alternative techniques. In this regard, agricultural advisory services have a key role. These services have, nonetheless, undergone profound organisational transformations in European countries, leading to a greater pluralism of agricultural service providers.This PhD research questions the performance of farm advisory services and their capacity to produce knowledge on alternative farming practices that does not require an intensive use of pesticides. This work is based on advances from institutional economics dealing with knowledge intensive business services (KIBS). It presents a conceptual and methodological framework developed to analyse the diversity of service suppliers, their partnerships and their conception of the performance of advisory services. The research draws on case studies in the French potato seed industry.
L'agriculture reste aujourd'hui verrouillée sur l'utilisation intensive des pesticides malgré leurs effets néfastes sur la santé et l'environnement et en dépit de la multiplication des réglementations restreignant leur utilisation. Les analyses menées sur les situations de verrouillage technologique montrent qu'une solution réside dans la production de connaissances sur des techniques alternatives aux pesticides. A ce titre, le recours au conseil agricole est présenté comme un élément clé. Mais, le conseil a connu en Europe de profondes transformations organisationnelles qui ont abouti à un pluralisme accru des types de prestataires.Dans ce contexte, cette thèse interroge la performance de conseil et sa capacité à produire des connaissances sur des techniques alternatives. En se fondant sur les apports d'analyses en économie institutionnelle des services intensifs en connaissances (KIBS), un cadre conceptuel et méthodologique a été conçu pour analyser la diversité des organismes de conseil, leurs relations et leurs logiques de performance de conseil. Ce travail s'appuie sur l'étude du cas du conseil agricole pour les producteurs de plants de pomme de terre en France.
Fichier principal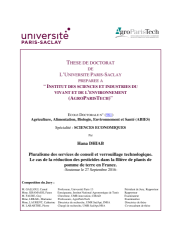 47321_DHIAB_2016_archivage.pdf (4.07 Mo)
Télécharger le fichier
Origin : Version validated by the jury (STAR)