Applying cartographic science to develop new tools for competency management
De nouveaux artefacts pour la gestion des compétences : l'émergence de "la cartographique"
Skills are complex management objects which are essential to define employers' needs and draw one's profile and wishes. Aggregated in positions, jobs, professions, they form a transactional framework in a space of abstract artefacts and their links. This thesis aims to assert the centrality of a mapping device by examining: the benefits of a clearing of this space, especially trough digital transformation; the indispensable support of technological artefacts to help a person or a group, to identify, decide, evolve in this space; the role of cartographer to be taken by the human resources function. The research is based on a professional career in the field of human resources and methodologically, crosses needs around the notion of competence with the contributions of modern cartography (GIS, geomatics, data visualisation). It leads to a synthesis by the design of a SaaS platform demonstrator, and a cartographic methodology for abstract space.
Les compétences sont des objets de gestion complexes mais indispensables à l'employeur pour spécifier ses besoins et au travailleur pour tracer son profil. Agrégées en postes, emplois, métiers, elles forment des cadres transactionnels dans un espace constitué d'objets abstraits et de leurs liens. Cette thèse vise à affirmer la centralité d'un dispositif cartographique à travers l'examen : des bénéfices d'une mise au net de cet espace, notamment face à la transformation numérique ; du recours indispensable à un artefact médiateur technologique ; du rôle de cartographe, le maître d'oeuvre de la fonction RH, investie de la médiation et de la régulation sociales. La recherche s'appuie sur un parcours professionnel dans le domaine RH et, sur le plan méthodologique, croise les besoins de la gestion des compétences avec les apports de la cartographie moderne. Elle aboutit à une proposition méthodologique pour cartographier des espaces abstraits, appuyée par un démonstrateur internet SaaS.
Fichier principal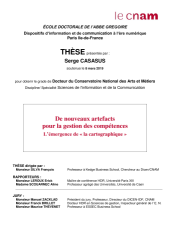 CASASUSdiff.pdf (13.56 Mo)
Télécharger le fichier
Origin : Version validated by the jury (STAR)