From the machine to the relaxed expert : the ideal of the modern accountant professional according to advertising : a study of accounting professional representations in the advertising published in the revue française de comptabilité from 1955 to 2017
De la machine à l'expert(e) libéré(e) : l'idéal du professionnel comptable moderne selon la publicité. : une étude des représentations du professionnel comptable par l'analyse des publicités parues dans la Revue Française de Comptabilité de 1955 à 2017.
The goal of this doctoral research is to analyze the successive transformations of perceived image of what is an accountant in advertising aimed at them. Based on the study of advertisements published in the Revue française de comptabilité from 1955, creation date of journal by the French Order of Chartered Accountants, to 2017, the transformations of the constituent elements of the central core and the peripheral elements of accounting professionals social representations, have been analysed in accordance with Abric's theory (1984). To do this, a semiological study of advertisements was favored, based on the joint analysis of their denoted and connoted message. The results of this research show that in sixty years, the ideal of the accounting professional has gone from the machine domination to an expert in social relations, looking for pleasure at work and his or her life. It thus appears that successive technological changes in the accounting profession have contributed to the modernization of the image of what an accountant should be. The managerial interest of this research is to enable the accounting profession to better understand its perceived image in order to better control it. In doing this, this study also questions the effects of advertising the professional accountants their professional identity definition.
Le but de cette recherche doctorale est d'analyser les transformations successives de l'image perçue de ce qu'est un professionnel comptable dans les publicités qui leur sont adressées. À partir de l'étude des publicités parues dans la Revue française de comptabilité de 1955, soit sa date de création par l'Ordre des Experts-Comptables, à 2017, l'évolution des éléments centraux et périphériques de ces représentations a été analysée en accord avec la théorie du noyau central élaborée par Abric (1984). Pour ce faire, une étude sémiologique a été privilégiée, fondée sur l'analyse conjointe des messages dénotés et connotés de ces publicités. Les résultats de cette recherche montrent qu'en soixante ans, l'idéal du professionnel comptable est passé d'un individu inféodé à la machine à un expert des relations sociales, orienté aujourd'hui vers une quête de son plaisir au travail et dans sa vie privée, une transformation apparue au rythme des mutations technologiques qui ont émaillé l'histoire de la profession comptable. Sur le plan managérial, l'enjeu de cette recherche est de permettre à la profession comptable de mieux comprendre son image perçue pour mieux la maîtriser. Ce faisant, elle questionne les effets des publicités à l'attention des professionnels comptables sur la définition de leur identité professionnelle.
Fichier principal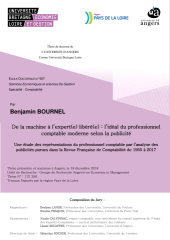 BOURNEL.pdf (14 Mo)
Télécharger le fichier
Origin : Version validated by the jury (STAR)