Role of dietary amino acids in the limitation of adiposity under a high protein diet.
Rôle des acides aminés dans la limitation de l'adiposité sous régime hyperprotéique.
Several studies have reported that some kinases located in the liver respond to the availability of amino acids. These kinases are mammalian target of rapamycin '(mTOR), "adenosine monophosphate-activated protein kinase" (AMPK) and "general control non-depressible kinase 2" (GCN2).The aim of our study was to clarify the role of two of these signaling pathways, AMPK and GCN2 in the adaptations of energy and protein metabolism in response to the modulation of dietary protein content. Wild-type and liver AMPK-deficient or liver GCN2-deficient mice were fed either a low, a normal or high protein diet during three weeks. Analyzes showed that liver AMPK-deficient mice fed under a normo-protein diet exhibit an adapatation of liver metabolism and secret FGF21 which enables them to have normal postprandial oxidation profiles.In contrast, liver AMPK-deficient mice fed a low or a high protein diet exhibit an alteration in postprandial oxidation profiles. The deletion of GCN2 in the liver only has an effect under low protein diet as liver GCN2 deficient mice have a lower lipid oxidation and a higher carbohydrate oxidation linked to the absence of FGF21 secretion. Concerning protein metabolism, AMPK and GCN2 do not seem to be involved in protein synthesis rate in the posrprandial period in the liver and periphery in the postprandial muscle. In conclusion, these studies show that hepatic AMPK and GCN2 deletions affect energy metabolism, but not protein metabolism and that the consequences depend on diet composition.
Plusieurs études ont montré que certaines kinases situées dans le foie, « mammalian target of rapamycin » (mTOR), « adenosine monophosphate-activated protein kinase » (AMPK) et « general control non-depressible kinase 2 » (GCN2) répondent à la disponibilité en acides aminés.L'objectif de nos études a été de préciser le rôle de deux de ces voies, l'AMPK et GCN2, dans les adaptations du métabolisme énergétique et de la synthèse protéique en réponse aux variations en protéines du régime. Pour cela, des souris de type sauvage et des souris KO n'exprimant plus la voie AMPK ou GCN2 dans le foie ont été nourries pendant trois semaines avec un régime faible, normal ou fort en protéines. Les analyses ont montré que les souris KO-AMPK foie spécifique et nourries sous régime normoprotéique adaptent leur métabolisme hépatique notamment en sécrétant le facteur fibroblastique FGF21 ce qui leur permet de compenser l'absence d'AMPK et de présenter des profils d'oxydation normaux.Au contraire, les souris KO-AMPK foie spécifique nourries avec des régimes faibles ou forts en protéines présentent des altérations des profils d'oxydation des lipides et des glucides liées à une absence de modification du métabolisme hépatique.La délétion de GCN2 dans le foie, quant à elle, n'a d'effet que sous régime faible en protéines : les souris KO-GCN2 foie spécifique présentent une plus faible oxydation lipidique et une plus forte oxydation glucidique que les souris sauvages en période postprandiale dû à l'absence d'induction de la sécrétion de FGF21.Concernant le métabolisme des protéines, les kinases GCN2 et AMPK ne semblent pas impliquées dans l'intensité du flux de synthèse protéique dans le foie et en périphérie dans le muscle en période postprandiale.En conclusion, ces travaux montrent que les délétions de l'AMPK et de GCN2 hépatiques affectent le métabolisme énergétique mais pas le métabolisme protéique et que les conséquences dépendent de la composition du régime.
Fichier principal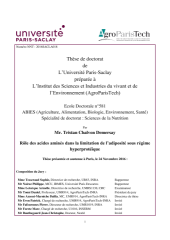 56904_CHALVON-DEMERSAY_2016_archivage.pdf (7.67 Mo)
Télécharger le fichier
Origin : Version validated by the jury (STAR)