B lymphocytes apoptosis resistance in chronic lymphocytic leukemia : implication of a neurotrophin, BDNF, the neurotensin receptor NTSR2, and Nurse-Like Cells
Résistance des lymphocytes B à la mort cellulaire au cours de la leucémie lymphoïde chronique : implications d'une neurotrophine, le BDNF, du récepteur de la neurotensine, NTSR2, et des "nurse-like cells"
Chronic lymphocytic leukemia (CLL) is a malignant hemopathy characterized by the accumulation of apoptosis resistant mature B lymphocytes in peripheral blood and secondary lymphoid organs. In these secondary lymphoid organs, the tumor microenvironment, notably Nurse-like Cells (NLCs), plays a major role in leukemic cells survival and proliferation promotion. In this study, an overexpression of neurotensin receptor NTSR2, a G-protein coupled receptor, was identified. NTSR2 is constitutively activated in circulating leukemic cells and its activation depends on its interaction with tyrosine kinase activity receptor TrkB upon binding of its ligand, BDNF. Activation of NTSR2-TrkB by BDNF induces survival signaling by Src and Akt pathways, and in term anti-apoptotic proteins Bcl-2 and Bcl-XL overexpression. Inhibition of NTSR2 in those cells impacts their viability. In the presence of NLCs, expressions of NTSR2, TrkB, BDNF, and sortilin, a neurotrophin and Trk receptor transport regulator, are enhanced. NLCs produce BDNF, stimulate Src activation, and their protective role on leukemic cells is BDNF-dependent. Taken together, this study highlights a key role of NTSR2-TrkB-BDNF in leukemic cells survival signaling, both in the circulation or in the tumor microenvironment, and might thus constitute a potential new therapeutic target.
La leucémie lymphoïde chronique (LLC) est une hémopathie maligne caractérisée par l'accumulation, dans le sang et les organes lymphoïdes secondaires, de lymphocytes B matures résistants à l'apoptose. Le microenvironnement tumoral de la LLC au sein des organes lymphoïdes secondaires, et notamment les « Nurse-Like Cells » (NLCs), joue un rôle majeur dans la promotion de la survie et de la prolifération des cellules leucémiques. Au cours de cette étude, la surexpression du récepteur de la neurotensine NTSR2, un récepteur couplé aux protéines G, a été caractérisée. Il est activé de façon constitutive dans les cellules leucémiques circulantes, et son activation dépend de son interaction avec le récepteur à activité tyrosine kinase TrkB suite à la liaison de son ligand, le BDNF, tous deux également surexprimés. L'activation de NTSR2-TrkB par le BDNF entraine une signalisation de survie par les voies Src et Akt, aboutissant à la surexpression des protéines anti-apoptotiques Bcl-2 et Bcl-XL. L'inhibition du récepteur NTSR2 dans ces cellules fait diminuer leur viabilité. En présence des NLCs, les expressions de NTSR2, TrkB, BDNF, et de la sortiline, protéine de transport des neurotrophines et des récepteurs Trk, est accentuée. Les NLCs produisent elle-même du BDNF, activent la voie de signalisation Src, et leur rôle protecteur des cellules leucémiques est BDNF-dépendant. L'ensemble de ces travaux met en évidence un rôle capital de NTSR2-TrkB-BDNF dans la signalisation de survie des cellules leucémiques circulantes et au sein du microenvironnement tumoral de la LLC, et pourrait ainsi constituer une nouvelle cible thérapeutique potentielle.
Fichier principal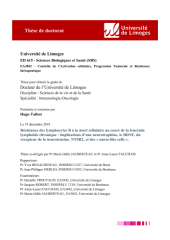 2018LIMO0066.pdf (35.16 Mo)
Télécharger le fichier
Origin : Version validated by the jury (STAR)