To create a political party or not ? : the Argentinean Workers' Union (CTA) in search of a political strategy to face neoliberalism (1991-2013)
Faire ou non parti ? : la Centrale des Travailleurs Argentins en quête d'une stratégie politique face au néo-libéralisme (1991-2013)
Criar ou não um partido? : a Central dos Trabalhadores Argentinos (CTA) em busca de uma estratégia política frente ao neoliberalismo
December 2002, the Argentinean Workers' Union (Central de Trabajadores Argentinos, CTA) decides to form a Political, Social and Cultural Movement. Everything suggests that the Central will create a political party. The ambition of the actors is to propose a left-wing alternative to the economic and social crisis that has affected the country for a year. Paradoxically, it is only from 2006 that a partisan construction begins whilst a left-wing government leads the Country and all the socio-economic indicators have improved. Why is the CTA reluctant to join in 2002? Why is it doing it in 2006 when the crisis is already behind? How is the party built? The objective of this thesis is to decipher this enigma through the understanding of the game of interdependencies between unions, social movements and political parties. Two hypothesis are defended. During the 1990s, the strategy of challenging neoliberal policies led the CTA to position itself at the intersection of different social universes, forging multiple relationships with unions, social movements and political parties. Because of the density of these networks and the intensity of the interactions between its components, a multi-sectoral environment, that we will call the "oppositional milieu", has been formed. It is because of the competitive games played both within the Central and the oppositional milieu, that the partisan construction strategy is hindered. The second hypothesis holds that partisans' strategies led by trade unionists are the result of a cleaved habitus. Their reconversion into the political field is partial and they resist to adopt practices and logics specific to the political game, at the risk of compromising the electoral viability of the party. The demonstration is based on a socio-ethnographic survey conducted during three field trips conducted between 2011 and 2015.
Décembre 2002, la Centrale des Travailleurs Argentins (CTA) décide de constituer un Mouvement Politique, Social et Culturel. Tout laisse croire que la Centrale va créer un parti politique. L'ambition est de proposer une alternative de gauche à la crise économique et sociale qui affecte le Pays depuis un an. Paradoxalement, ce n'est qu'à partir de 2006 que commence la construction partisane alors qu'un gouvernement de gauche dirige le Pays et que tous les indicateurs socio-économiques se sont améliorés. Pourquoi la CTA hésite à faire parti en 2002 ? Pourquoi le fait-elle en 2006 alors que la crise est déjà passée ? De quelle façon le parti est-il construit ? L'objectif de cette thèse est de déchiffrer cette énigme à travers la compréhension du jeu d'interdépendances constitué entre syndicats, mouvements sociaux et partis politiques. Deux hypothèses sont ici défendues. D'une part, pendant les années 1990, la stratégie de contestation des politiques néolibérales a amené la CTA à se positionner à l'intersection de différents univers sociaux, en nouant de multiples relations avec des syndicats, des mouvements sociaux et des partis politiques. En raison de la densité de ces réseaux et de l'intensité des interactions entre ses composants, un milieu multisectoriel que nous désignerons par l'expression «milieu oppositionnel» s'est alors formé. La stratégie de construction partisane se trouve toutefois entravée du fait des jeux concurrentiels livrés à la fois au sein de la Centrale et du milieu oppositionnel. D'autre part, les stratégies partisanes menées par les syndicalistes sont en réalité le résultat d'un habitus clivé. Leur reconversion dans le champ politique est partielle, de même qu'ils résistent à adopter des pratiques et les logiques propres au jeu politique, au risque de compromettre la viabilité électorale du parti. La démonstration s'appuie sur une enquête socio-ethnographique menée pendant trois séjours de terrain réalisés entre 2011 et 2015.
Dezembro de 2002, a Central dos Trabalhadores Argentinos (CTA) decide constituir um Movimento Político, Social e Cultural. Tudo indica que a Central criará um partido político. Sua ambição é de propor uma alternativa de esquerda como saída para a crise econômica e social que afeta o País depois de um ano. Paradoxalmente, apenas em 2006 começa a construção partidária, quando já existe um governo de esquerda e que todos os indicadores socioeconômicos melhoraram. Por que a CTA hesita em construir seu partido em 2002? Por que ela decide de fazê-lo em 2006 quando a crise já foi deixada para trás? De que maneira o partido é construído? O Objetivo desta tese é resolver este enigma através da compreensão do jogo de interdependências constituído entre sindicatos, movimentos sociais e partidos políticos. Duas hipóteses serão defendidas. Por um lado, durante os anos 1990, a estratégia de contestação das políticas neoliberais conduziu a CTA à posicionar-se na intersecção entre diferentes universos sociais, estabelecendo múltiplos vínculos com sindicatos, movimentos sociais e partidos políticos. Em razão da densidade destas redes e da intensidade das interações entre seus componentes, formou-se um meio multi-setorial que designaremos "meio oposicionista" (milieu oppositionnel). A estratégia de construção partidária é entravada pelos jogos concorrenciais encetados tanto no âmago da Central quanto nas redes do meio oposicionista. Por outro lado, as estratégias partidárias desenvolvidas pelos sindicalistas são condicionadas por um tipo de habitus clivado. Sua reconversão no campo político é parcial, de maneira que eles resistem a adaptar práticas e logicas próprias ao jogo político, pondo em risco a viabilidade eleitoral do partido. A demonstração está baseada em uma pesquisa sócio-etnográfica conduzida ao longo de três trabalhos de campo realizados entre 2011 e 2015.
Fichier principal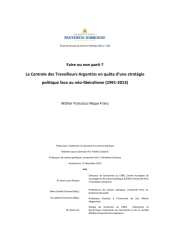 NIQUEFRANZ.pdf (11.12 Mo)
Télécharger le fichier
Origin : Version validated by the jury (STAR)