Online informal learning of English : what consequences on the pronunciation of French students ?
Apprentissage informel de l'anglais en ligne : quelles conséquences sur la prononciation des étudiants français ?
This work is part of the online informal learning of English and explores practices related to various sources of exposure of a sample of students from the University of Strasbourg. The data collected, based on a pronunciation test, a perception test and a survey, show inter- and intra-individual variability inherent to the complexity of the system in which participants evolve. With regards to Received Pronunciation and General American accents, acoustic analyses of pronunciation elements highlight oral productions composed of mixtures of characteristics of the two accents and those of the French language. The perturbation of speech production, implemented through fast speech variation, indicates a resistivity of the system for certain sounds/sequences of sounds. Results also show that television series are the most influential activities among those that promote vocal imitation and allow phonetic-phonological appropriation.
Ce travail s'inscrit dans le cadre de l'apprentissage informel de l'anglais en ligne et explore les pratiques liées aux diverses sources d'exposition d'un échantillon d'étudiants de l'Université de Strasbourg. Les données collectées à partir d'un test de prononciation, d'un test de perception et d'un sondage, montrent une variabilité inter et intra-individuelle inhérente à la complexité du système dans lequel évoluent les participants. Eu regard aux accents Received Pronunciation et General American, les analyses acoustiques d'éléments de prononciation mettent en évidence des productions orales constituées de mélanges de spécificités des deux accents et celles de la langue française. La perturbation de la production de la parole, mise en oeuvre au travers de la variation de la vitesse d'élocution, indique une résistivité du système pour certains sons/séquences de sons. Les résultats montrent également que les séries télévisées constituent les activités les plus influentes parmi celles qui favorisent l'imitation vocale et permettent une appropriation phonético-phonologique.
Fichier principal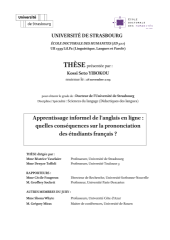 Yibokou_Kossi_Seto_2019_ED520_INC.pdf (4.28 Mo)
Télécharger le fichier
Origin : Version validated by the jury (STAR)