An imaginary of the bond : family and society in the Argentinian independant theatre (1975-2015)
Un imaginaire du lien : famille et société dans le théâtre indépendant argentin (1975-2015)
From a transdisciplinary approach at the crossroads of sociology, anthropology, history and philosophy, this research, in a first instance, considers how the family, everyday playground of a dialectic mesh between the same and the other, can be the privileged substrate of an "imaginary of the bond". In the light of this hypothesis, and through the social criticism, this thesis interrogates the intersections between family bond (exhibited on stage), social bond (projected on it) and theatrical bond (which structures the dramaturgy and defines a specific theatricalness), during two timeframes particularly intricate on a socio-political standpoint: the last military dictatorship and the post-dictatorship. On the crossroads of theatrical studies and social sciences, this research explores political and social issues while bringing to the forefront the dramaturgical analysis of the corpus.
¿Por qué el teatro, y en particular en Argentina, parece tan obsesionado con el tema de la familia ? Rechazando la retórica de la «familia disfuncional», esta tesis analiza las ficciones familiares en su relación con lo social. Desde una perspectiva pluridisciplinar (con herramientas de sociología, antropología, historia y filosofía), se trata primero de pensar cómo la familia, espacio cotidiano de una dialéctica entre lo mismo y lo otro, puede ser el soporte de un «imaginario del vínculo». A partir de esta hipótesis, y con las herramientas de la teatrología y la sociocrítica, la tesis interroga los cruces entre vínculo familiar, vínculo social y vínculo teatral (el que estructura la dramaturgia y la teatralidad), durante dos períodos complejos a nivel sociopolítico: la última dictadura militar y la posdictadura. Respecto al teatro producido durante la dictadura, se matiza la idea de una intención sistemáticamente metafórica (al asumir que un teatro concebido como mero código sería un vínculo teatral profundamente vertical que no corresponde con gran parte de las obras), y se analizan «manchas temáticas» recurrentes, que plasman en las ficciones familiares un «vínculo tiránico», a la par de la política de terror de la Junta militar.En la posdictadura, se sigue profundizando una dinámica de fragmentación social, que también se puede vislumbrar en la producción teatral. Mientras que las condiciones de producción del teatro independiente (en espacios cada vez más íntimos) favorecen la multiplicación de dramas familiares, las nuevas dramaturgias, a pesar de reivindicar su autonomía, también están atravesadas por el contexto social e histórico (mediante motivos temáticos recurrentes y formas dramáticas fragmentadas). Entre los estudios teatrales y las ciencias sociales, este trabajo de investigación explora la dimensión política y social del tema familiar, con el análisis dramatúrgico del corpus en el primer plano de la reflexión.
À partir d'une approche transdisciplinaire croisant la sociologie, l'anthropologie, l'histoire et la philosophie, il s'agit d'abord de penser comment la famille, lieu quotidien d'un maillage dialectique entre le même et l'autre, peut être le support privilégié d'un « imaginaire du lien ». C'est au regard de cette hypothèse, et depuis une perspective sociocritique, que la thèse questionne les croisements entre le lien familial (exposé sur la scène), le lien social (qui s'y projette, par la médiation de l'imaginaire) et le lien théâtral (qui structure les dramaturgies et définit une théâtralité spécifique), durant deux périodes particulièrement complexes d'un point de vue socio-politique : la dernière dictature militaire puis la post-dictature. À la croisée des études théâtrales et des sciences sociales, cette recherche explore les enjeux politiques et sociaux du sujet, tout en plaçant l'analyse dramaturgique du corpus au premier plan de la démonstration.
Fichier principal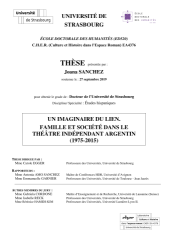 Sanchez_Joana_2019_ED520_INC.pdf (13.4 Mo)
Télécharger le fichier
Origin : Version validated by the jury (STAR)