Li/Mg ratio in scleractinian corals : a new powerful proxy for ocean paleo-temperatures ?
Le rapport élémentaire Li/Mg dans les coraux scléractiniaires : un nouveau et puissant traceur des paléo-températures de l'océan ?
The Li/Mg paleothermometer was here updated in a calibration including 15 species of coral from culture or various environmental context, from tropical areas to deep Antarctic waters. This work showed that this new proxy well defines the whole ocean temperature range from -1 to 29°C, with a precision of ± 1.0°C. However, presence of organic matter or diagenetic calcite in the skeleton can bias the reconstructed temperatures. A specific chemical cleaning and micro analysis can overcome these effects. Yet, uncertainties of reconstructed temperatures are higher for tropical corals from shallow waters, largely subjected to seasonal variation of environmental factors (e.g. SST, light, precipitations). Calcification and growth processes of these zooxanthellate species, controlled by their localisation in the lagoon and by seasonal variation, seem to alter the precision of the Li/Mg proxy. By combining Li/Mg and Sr/Ca ratios in a multi-proxy approach, these uncertainties can be considerably reduced, with a precision reaching ± 0.6°C. In a first application, general and local calibrations were compared in order to reconstruct the historical evolution of temperatures from analysis on a Siderastrea siderea, sampled alive in Martinique. The resulting temporal series covers the last two centuries and clearly shows the global warming affecting the Caribbean, in agreement with existing data. A second application was conducted on fossil deep-water corals from Mediterranean Sea, providing the first reconstruction of the temperature evolution of intermediate waters since 55.000 years, with a particularly cold signal during LGM, in response of the last glacial/interglacial cycle.
La calibration du paléo-thermomètre Li/Mg a ici été revisitée pour 15 espèces de corail mises en culture ou issues de contextes environnementaux variés, allant des régions tropicales aux eaux profondes Antarctiques. Ces travaux de thèse ont montré que ce nouveau proxy retrace bien toute la gamme de température de l'océan allant de -1 à 29°C, avec une précision de l'ordre de± 1,0°C. Cependant, la présence dans le squelette de matière organique ou de calcite diagénétique peut biaiser les températures reconstruites. Il a également été montré que ces effets peuvent être corrigés par un nettoyage chimique adapté ou par des analyses spécifiques à micro-échelle. Une analyse des données Li/Mg dans les coraux tropicaux indique que les incertitudes de reconstruction sont plus élevées pour les eaux de surface chaudes et soumises aux variations saisonnières des facteurs environnementaux (SST, lumière, précipitations, etc.). Les processus de calcification ou le mode de croissance de ces espèces à zooxanthelles, contrôlés par leur localisation (lagon) et par les variations saisonnières, semblent altérer la précision du traceur Li/Mg. Toutefois, en combinant les rapports élémentaires Li/Mg et Sr/Ca dans une approche multi-proxy, ces incertitudes peuvent être considérablement réduites, de l'ordre de ± 0,6°C. En première application et après analyse de calibrations globales ou locales, l'évolution historique des températures a été retracée à partir d'une colonie de Siderastrea siderea prélevée vivante en Martinique. La série temporelle obtenue couvrant les 2 derniers siècles trace clairement le réchauffement climatique en cours dans la région des Caraïbes, en accord avec les données existantes. Une seconde application concerne l'utilisation du Li/Mg dans des coraux profonds fossiles de la Mer Méditerranée et permet de reconstruire l'évolution des températures depuis 55 000 ans des eaux intermédiaires de la Méditerranée, tracées particulièrement froides au LGM, et cela en réponse au dernier cycle glaciaire/interlgaciaire.
Fichier principal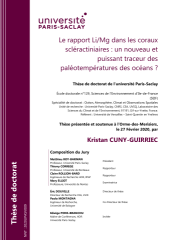 82622_CUNY-GUIRRIEC_2020_archivage.pdf (7.62 Mo)
Télécharger le fichier
Origin : Version validated by the jury (STAR)