For a social perspective of Industrial and Territorial ecology (ITE) : mechanism of collective action, learning processes, creation of territorial value. Storytelling from IE projects in Kamouraska (Quebec) and Port Atlantique La Rochelle (France).
Pour une perspective sociale de l'écologie industrielle et territoriale (EIT) : mécanismes d'action collective, processus d'apprentissage, création de valeur territoriale. Une mise en récit à partir des démarches d'EIT dans la municipalité régionale de comté (MRC) du Kamouraska et au port Atlantique de La Rochelle
Based on a human-centered principle of industrial ecology (IE), which exceeds technological approaches, this thesis analyzes the technical, human, social and organizational factors conditioning the implementation and sustainability of industrial synergies. It investigates the intertwinement of such factors in fostering a collaborative project. Through a case study approach, it contrasts the project coordinated in the Municipalité régionale de comté (Quebec, Canada) with the one unfolding at Port Atlantique La Rochelle (France). Our main research question is: How do the territory, the actor's networks, the industrial synergies and the benefits impact IE's implementation? To address it, the study underlines new theoretical and empirical perspectives regarding the four key notions of industrial ecology: territory, actors' network, industrial synergies and benefits. More precisely, the thesis explores individual and organisational behavior as a major lever or trigger for project implementation. IE are considered as space of collective action, of co-learning, and creation of what is understood as territorial value. The methodological approach is based on participative observations, on network analysis, on semi-directive interviews and on documentary analysis. finding and awareness of social phenomena that occur within actors' ecosystems in order to help of socio-political understanding of industrial symbioses. Intensive fieldwork was conducted both in Québec and in France over a period of almost two years (2017-2019). A total of 40 respondents were interviewed: 15 in France and 25 in Quebec.Our results focus on the idea that IE's implementation is largely depending on an endogenization of territory. The geographical proximity between actors constitutes a critical factor for the success of the process. Proximity is in fact determining the territorial dynamics. It highlights the local potential of natural resources, and conditions the perception of risks within the sectors of activity of the companies. Our results also demonstrate the importance of relational and interactionist processes regarding the projects implementation and monitoring. In fact, our study stretches how stakeholder's participation and trust, the influence of public/political agenda, and the governance mechanisms are key factors in determining how the industrial ecology project will unfold. Furthermore, the thesis contributes to the theoretical analysis of industrial ecology by assessing its benefits in terms of rather immaterial dimensions. By exploring the global results and going beyond the quantitative spin-offs of the projects in France and in Québec, we find how exchanges of flows foster social learning and collective opportunities regarding contemporary ecological issues.Finally, this research helps to increase a social perspective in designing and understanding industrial ecology. Our research emphasizes the importance of IE's institutionalization (territorial planning, incentive measures, legal and institutional framework). It underscores how it is conditioned by collective processes, intentionality, and technical and economic interdependencies between stakeholders. Industrial ecology deserves to be managed as a process of territorial development and social innovation.
S'appuyant sur une perception humano-centrée de l'écologie industrielle et territoriale (ÉIT), qui suppose le dépassement d'un déterminisme technologique ou d'une vision techno-centrée, cette thèse propose une mise en relation entre les facteurs techniques, humains et socio-organisationnels qui fondent les processus de mise en œuvre et de pérennisation des synergies industrielles. À travers une mise en récit des démarches d'ÉIT dans la MRC de Kamouraska (Québec) et au Port Atlantique La Rochelle (France), elle ouvre de nouvelles perspectives autour de quatre notions clefs : le territoire (les spécificités territoriales), l'écosystème d'acteurs (les interactions sociales), les synergies industrielles et les bénéfices. La thèse souligne comment le territoire, les réseaux d'acteurs, les synergies et les bénéfices influencent les démarches d'ÉIT. Elle renvoie à une application territorialisée des principes de l'ÉIT en termes d'efficacité technico-économique, environnementale et sociale.Dans cette perspective, elle explore le comportement des acteurs, comme levier majeur du déploiement des projets, mais aussi de l'affirmation de l'ÉIT comme espace d'action collective, d'apprentissage et de création de valeur territoriale. Pour ce faire, l'approche méthodologique repose principalement sur une observation des réseaux, la découverte et la perception des phénomènes sociaux qui se produisent au sein des écosystèmes d'acteurs afin d'aboutir à une compréhension sociopolitique des symbioses industrielles.Nos résultats mettent en évidence une endogénéisation du territoire dans le déploiement de l'ÉIT. En se fondant sur une analyse de la proximité entre les acteurs, la thèse explore la dimension spatiale, les dynamiques territoriales, le potentiel local des ressources naturelles, la perception des risques au sein des filières et/ou secteurs d'activités des entreprises, pour saisir les processus d'émergence et de construction des démarches d'ÉIT au sein d'un territoire. Les résultats révèlent l'importance des processus relationnels et interactionnistes au travers du degré de participation et de confiance, l'influence de l'agenda public/politique, les mécanismes de gouvernance, etc. Ils soulignent également une remise en cause des logiques purement révélatrices des ressources ou de mesurabilité des gains, en investiguant une autre dimension de la valeur dans les échanges de flux. Celle-ci porte sur les processus d'apprentissage, les opportunités de constitution d'un public autour des enjeux écologiques contemporains par l'entremise des échanges de flux.En définitive, l'étude menée auprès de 40 acteurs : 15 en France et 25 au Québec, renforce la perspective sociale dans la conception et/ou la compréhension des démarches d'écologie industrielle et territoriale. La mise en récit de ces deux cas participe à l'affirmation des mécanismes de l'institutionnalisation de l'ÉIT (planification territoriale, mesures d'incitation, cadre juridique et institutionnel) et des processus collectifs dans la structuration et le fonctionnement des réseaux d'acteurs. Les démarches d'ÉIT au Kamouraska et à La Rochelle témoignent des intentionnalités humaines dans les dynamiques de réseaux et des interdépendances technico-économiques entre les parties prenantes. La thèse contribue à éclairer l'écologie industrielle et territoriale comme processus de développement territorial et/ou d'innovation sociale. Elle souligne l'intérêt d'élargir le champ des démarches à une diversité d'acteurs, en respectant les spécificités des contextes territoriaux et le rythme de progression propre au milieu d'implantation.
Fichier principal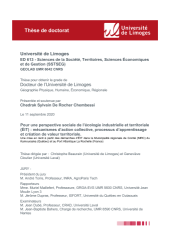 2020LIMO0019.pdf (6.07 Mo)
Télécharger le fichier
Origin : Version validated by the jury (STAR)