Discourse and (inter)subjectivity in 2014 European elections campaign : a praxematic approach.
Discours et (inter)subjectivité dans la campagne des élections européennes 2014 : une approche praxématique.
This paper aims at analysing political representation in its symbolic function of constructing collective identities. It relies on the theory of hegemonies of Ernesto Laclau and Chantal Mouffe, as well as on the political subjectivation, as addressed by Jacques Rancière. Both theories put dissensus at the foundation of any political community and reflect on the major role of representations of otherness in the discursive construction of identities. The praxematic epistemic and methodological framework is particularly relevant for analysing this discursive process, through the progressive freezing of the dialectic of self and other. The study field, the European elections campaign (May 2014) seems appropriate for grasping the obstacles to a European political sphere, otherwise than through its opposition to national space. From a linguistic perspective, the analysis shows the common importance of all units in the co-construction of the Real and its narrative, against the distinction between empty and full words. The study also aims at seizing the polymorphism of represented discourse. In parallel, enunciative erasure strategies prove to play a key role in the hegemonic construction of meaning, as producer of evidence.
Ce travail propose d'analyser la représentation politique dans sa fonction symbolique de construction des identités collectives. Il s'appuie sur la théorie des hégémonies développée par Ernesto Laclau et Chantal Mouffe, ainsi que sur la subjectivation politique telle qu'abordée par Jacques Rancière, théories qui placent le dissensus au fondement de toute communauté politique et invitent à une réflexion sur le rôle fondamental des représentations de l'altérité dans la construction discursive des identités et du social. L'approche praxématique en analyse du discours offre un cadre épistémique et méthodologique particulièrement heuristique pour analyser cette intersubjectivité, à travers les figements progressifs de la dialectique du même et de l'autre. Le terrain d'étude est celui de la campagne des élections au Parlement européen (mai 2014), par rapport à laquelle l'analyse permet d'appréhender la difficile émergence d'un espace politique européen, autrement que par le truchement de son opposition à l'espace national. Il s'agit d'identifier les conditions d'émergence d'un demos européen, qui ne se confonde ni avec l'ethnos, dont il est montré qu'il n'a rien d'essentiel, ni avec le corps social atomisé de l'individu libéral. Les traces textuelles de cette émergence s'appréhendent en (co)(n)texte, suivant des réseaux praxiques. L'analyse s'intéresse au rôle de l'ensemble des unités linguistiques dans la coconstruction du réel et dans sa mise en récit. Elle tente également d'appréhender la problématique du discours représenté dans sa polymorphie. Parallèlement au (sur)marquage des points de vue, les phénomènes d'effacement énonciatif s'avèrent déterminants dans la construction hégémonique du sens, comme producteurs d'évidence.
Fichier principal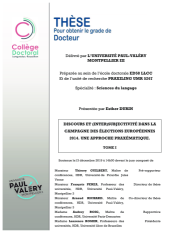 2019_DURIN_arch.pdf (3.53 Mo)
Télécharger le fichier
Origin : Version validated by the jury (STAR)