Towards a Creative Geography: impacts of cultural and creative places, activities, and events on the PACA region's development.
Vers une géographie de la créativité : impacts des lieux, des activités et des événements créatifs et culturels sur le développement de la région SUD – Provence Alpes Côte d'Azur.
This geographical thesis aims to define and quantify territorial creativity in the south-eastern part of France through a multi-scale approach and by mobilizing several methods. Since the beginning of the 2000s, the word creativity has been more and more used by local decision-makers and urban planners. But if this notion is particularly important within speeches or territorial strategies, it remains a confusing word. Therefore, our analysis first focuses on a theoretical and critical study that allows seizing the large diversity of both the stakes and limits within such a subject. At the same time, it is undoubtedly necessary to complete this epistemological frame with an empirical approach based on the study of three different fields which are: the SUD – Provence Alpes Côte d'Azur region, the metropolitan area called Aix-Marseille Provence and finally, the sixteen districts of Marseille. Thanks to this second part, the thesis underlines the huge diversity of creative forms (i.e., creative industries, cultural and creative amenities, big events, street-art…) and the territorial impacts that are linked to them. Finally, through several examples and by using numerous methods (i.e., statistic data, questionnaires, interviews, press analysis, maps…), this geographical thesis aims to assess the strengths and the weaknesses of territorial creativity in the south-east of France.
Cette thèse de géographie a l'ambition de définir et de quantifier la créativité territoriale dans le sud-est français en mobilisant une approche multiscalaire et une pluralité de ressources méthodologiques. Depuis le début des années 2000, la notion de créativité a acquis une importance prépondérante dans les discours ou les stratégies territoriales des décideurs locaux et des aménageurs. Or, cette notion et la multiplicité des impacts socio-spatiaux qui découlent de telles initiatives territoriales, restent floues. À ce titre, l'analyse de la créativité territoriale nécessite indubitablement de développer un cadre théorique critique permettant de saisir la grande diversité de ses enjeux tout en soulignant l'importance de ses limites. Toutefois, ce cadrage épistémologique essentiel reste insuffisant pour comprendre l'ancrage territorial des stratégies créatives urbaines. De fait, il est complété par un travail de terrain mené autour des échelles de la région SUD – Provence Alpes Côte d'Azur, de la métropole Aix-Marseille Provence et des arrondissements marseillais. Cette étude empirique multiscalaire s'intéresse aux diverses formes de la créativité (industries créatives, équipements culturels, grands événements, street-art…) et aux impacts territoriaux qui leur sont associés. Finalement, en s'appuyant sur de nombreux exemples et en exploitant une grande variété de méthodes (bases de données statistiques, questionnaires, entretiens, analyse de PQR, cartes…), cette thèse vise à déterminer quels sont les atouts et les faiblesses de la géographie de la créativité dans le sud-est français.
Fichier principal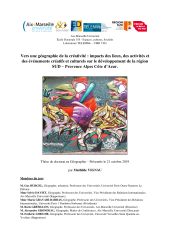 VIGNAU_Mathilde_2019_THESE_Vers_une_géographie_de_la_créativité.pdf (14.24 Mo)
Télécharger le fichier
Origin : Files produced by the author(s)