Support for family resilience in a context of political violence in Lebanon : Child or ecosystem resilience ?
Accompagnement de la résilience familiale dans un contexte de violence politique au Liban : résilience de l'enfant ou de l'écosystème ?
This research questions a support system for resilience, offered to ten families whose children have academic and behavioral disorders linked to the context of socio-political instability in Lebanon. Our clinical approach is an integrative and systemic action research that spanned over three years, in a school in the eastern suburbs of Beirut. The perimeter brings together the following five actors: the student, the parents, the institution, the class, and the multidisciplinary therapeutic team. Each actor is the subject of an operational hypothesis. Our field experiment was equipped with clinical and academic tools to assess the effectiveness of the program with the student. The results of the tests made it possible to specify and analyze the levers and obstacles to support, leading to a readjustment of the action plan.The main results show that the whole protocol increases student resilience and that each actor contributes at different times with varying valence. To respond to the complexity of the relationships at play, support for resilience involves a multimodal device with a transversal therapeutic intervention. We have found that the type of parental attachment influences a child's ability to benefit from the help offered, and that all actors need to feel secure in order to embrace the changes. The study also reveals that the caring contribution of teachers and peers is essential in motivating the student to participate in the program. In addition, the quality of listening and countertransference shown by the team of the psychoeducational department is the keystone of the therapeutic alliance with each of the stakeholders.However, the impact of the context of chronic political violence results in a number of dysfunctions at each level of the ecosystem that are difficult to compensate for. This leads us to reconsider the Bronfenbrenner layer system. Repeated episodes completely destabilize the macrosystem and, over the long term, disrupt all the work that has been done in the child's mesosystem. It would be futile to believe that the intermediate layers of the model provide sufficient protection for a perennial neodevelopment. Therefore, resilience under an arbitrary State still remains to be theoretically deepened
Cette recherche interroge un dispositif d'accompagnement à la résilience, proposé à dix familles dont les enfants présentent des troubles scolaires et comportementaux en lien avec le contexte d'instabilité socio-politique du Liban. Notre approche clinique est une recherche-action intégrative et systémique qui s'est déroulée durant trois ans, au sein d'une école de la banlieue-est de Beyrouth. Le périmètre regroupe les cinq acteurs suivants : l'élève, les parents, l'institution, la classe, et l'équipe thérapeutique multidisciplinaire. Chacun fait l'objet d'une hypothèse opérationnelle. Notre expérimentation sur le terrain s'est dotée d'instruments cliniques et académiques pour évaluer l'efficacité du programme auprès de l'élève. Les résultats des tests ont permis de préciser et analyser les leviers et les freins à l'accompagnement, entraînant un réajustement du plan d'action. Les principaux résultats montrent que l'ensemble du protocole augmente la résilience de l'élève et que chaque acteur y contribue à différents moments par une valence variable. Pour répondre à la complexité des relations en jeu, l'accompagnement à la résilience passe par un dispositif multimodal avec une intervention thérapeutique transversale. Nous avons constaté que le type d'attachement parental influe sur la capacité de l'enfant à profiter de l'aide offerte, et que tous les acteurs ont besoin de se sentir en sécurité pour adhérer aux changements. L'étude révèle aussi que la contribution bienveillante des enseignants et des pairs est essentielle à la motivation de l'élève à participer au programme. Par ailleurs, la qualité de l'écoute et du contre-transfert dont fait preuve l'équipe du département psychopédagogique est la clé de voûte de l'alliance thérapeutique avec chacune des parties prenantes.Cela dit, l'impact du contexte de violence politique chronique entraîne un certain nombre de dysfonctionnements à chaque niveau de l'écosystème, difficiles à compenser. Cela nous amène à reconsidérer le système en couche de Bronfenbrenner. Les crises à répétition déstabilisent totalement le macrosystème et perturbent sur le long terme tout le travail qui a été réalisé dans le mésosystème de l'enfant. Il serait vain de croire que les couches intermédiaires du modèle apportent une protection suffisante pour un néodéveloppement pérenne. Par conséquent, la résilience sous un Etat arbitraire reste encore à approfondir théoriquement et à inventer in vivo.
Fichier principal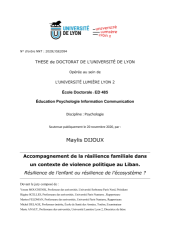 these_internet_diffusion_dijoux_m.pdf (6.24 Mo)
Télécharger le fichier
Origin : Version validated by the jury (STAR)