The sky begins beyond the seas. Astronomical practices, knowledges, and the XVIIIth century extra-European expeditions.
Le ciel commence au-delà des mers. Savoirs et pratiques astronomiques et expéditions extra-européennes au XVIIIe siècle.
In 1761 and 1769, the transits of Venus led to the organization of more than a hundred concerted observations throughout the world. This phenomenon gave astronomers an opportunity to determine the solar parallax by comparing data obtained from multiple, distant locations. To respond to this scientific challenge, observations were organized in European territories as well as ultra-marine and colonial stations. Multiple actors had thus to be mobilized : from astronomical science ; but also political powers, which brought diplomatic and financial support, as well as actors from the extra-European worlds : colonial officers, settlers, military and merchant navy, commercial companies, and so on. The planning of an astronomical expedition requires scientists in order to anticipate any unpredictible events. However, the distances between observation stations increase the deviation from the forecast and forces travelers to make some choices. Taking into account the hazards of the expedition results in a redefinition of the space-time, affects the design itself of the expedition, as well as their progress and the process of validation of the results. The contributions from these expeditions are diverse upon multiple fields : astrnomy, but also botanical science, linguistics, ethnology and anthropology. They also mark a major advance in cooperation between scientists and the navy. The extraordinary context of ultra-marine observations, however, required precise definition of the conditions of the astronomical experiment, along with the instrumental and technical protocols, with the aim of standardizing both practice and results, regardless of the context in which each singular observation was made.
Les passages de Vénus devant le Soleil entraînent l'organisation de plus d'une centaine d'observations concertées à travers le monde en 1761 comme en 1769.Le phénomène offre aux astronomes l'occasion de déterminer la parallaxe solaire à partir de la comparaison entre les données obtenues en des points éloignés du globe. Afin de répondre aux enjeux scientifiques, les savants organisent des observations dans les territoires européens et depuis des stations ultra-marines et coloniales. Il convient alors de mobiliser les acteurs de la science astronomique, mais également les pouvoirs politiques, qui apportent un soutien diplomatique et financier, ainsi que les acteurs des mondes extra-européens : fonctionnaires coloniaux, colons, marine militaire et marchande, compagnies commerciales, etc. L'organisation des expéditions astronomiques impose aux savants de construire une opération qui permette d'anticiper l'aléatoire. Cependant, l'éloignement des stations d'observation augmente les écarts à la prévision et contraint les voyageurs à intervenir. La prise en charge de l'aléatoire entraîne une redéfinition de l'espace-temps, dans la conception même des expéditions, comme dans leur déroulement et dans le processus de validation des résultats. Les apports de ces expéditions sont divers et s'ouvrent à de multiples domaines, l'astronomie, mais aussi la botanique, la linguistique, l'ethnologie et l'anthropologie. Elles marquent une avancée majeure dans la coopération entre les savants et la marine. Le contexte extraordinaire des observations ultra-marines impose toutefois aux savants de définir avec précision les conditions de l'expérience astronomique et les protocoles instrumentaux et techniques avec pour objectif d'uniformiser la pratique et les résultats quelque soit le contexte dans lequel l'observation a lieu.
Fichier principal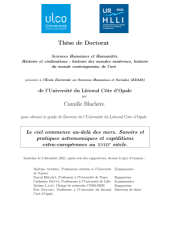 122049_BLACHERE_2021_archivage.pdf (17.96 Mo)
Télécharger le fichier
Origin : Version validated by the jury (STAR)