Morphogenesis of a migration system. Emergence(s), Development(s), Transformation(s) of the Colombia-Spain migration system (1988-2014)
Morfogenésis de un sistema migratorio. Emergencia(s), desarrollo(s), transformacion(es) del sistema migratorio Colombia-España (1988-2014)
Morphogenèse d'un système migratoire. Émergence(s), Développement(s), Transformation(s) du système migratoire Colombie-Espagne (1988-2014)
This study analyses the movement of more than half a million migrants from Colombia to Spain and from Spain to other horizons. We analyze the emergence of the Colombian migration system in Spain at the end of the 1990's, its developments from 2000 to 2007, as well as the transformations observed since the 2008 crisis. This thesis questions the migrants' respective contributions to structuring the migration system and conversely the role of the system in structuring individual migration trails. Using a system of multiscale observations- integrating macroscopic (census data, population registers) and individual microdata (Encuesta Nacional de Inmigrantes 2007)- combined with a multisited data base (Colombian and Spanish sources), led us to a reflection on the "morphogenesis" of a specific migration system, and a confrontation of the empirical input with proposals made in major foundational works in migration studies continually mentioned and discussed throughout this manuscript.
El presente trabajo aspira a mostrar el despliegue de más de medio millón de migrantes, desde Colombia hacia España y desde España hacia otros horizontes. Aquí se estudian las dinámicas que condujeron a la emergencia del sistema migratorio colombiano en España al final de los años noventa, a su desarrollo entre los años 2000 y 2007 así como las transformaciones que se observan desde la crisis del 2008. Esta tesis cuestiona las contribuciones diferenciadas de migrantes a la estructuración del sistema migratorio y a su vez, el papel del sistema en la estructuración de los recorridos migratorios de los individuos. Recurrir a un sistema de observación multiescala, articulando datos de tipo macroscópico (datos censales, registros de población) y microdatos individuales (Encuesta Nacional de Inmigrantes 2007) así como multisitio (fuentes colombianas y españolas), permitió enriquecer una reflexión sobre la morfogénesis de un sistema migratorio particular y confrontar este aporte empírico con las hipótesis de grandes trabajos precursores de los estudios migratorios.
Ce travail ambitionne d'analyser le déploiement de près d'un demi-million de migrants, de la Colombie vers l'Espagne et de l'Espagne vers d'autres horizons. Les dynamiques ayant conduit à l'émergence du système migratoire colombien en Espagne à la fin des années 1990, à ses développements de 2000 à 2007, ainsi qu'aux transformations observées depuis la crise de 2008 y sont étudiées à plusieurs échelles : projets migratoires individuels, réseaux familiaux, réseaux migratoires, réseaux urbains. L'hypothèse d'auto-organisation permet d'étudier les contributions différenciées des migrants à la structuration du système migratoire et réciproquement le rôle du système dans la structuration des parcours migratoires des individus. Le recours à une observation multiscalaire - articulant données d'ordre macroscopique (données censitaires, registres de population) et microdonnées individuelles (Encuesta Nacional de Inmigrantes 2007) – ainsi que multi-site (sources colombiennes et espagnoles), a nourri une réflexion sur la « morphogenèse » d'un système migratoire particulier et a permis de confronter cet apport empirique aux hypothèses des grands travaux fondateurs des études migratoires qui sont continument mobilisés et discutés au long des quatre parties de ce manuscrit.
Fichier principal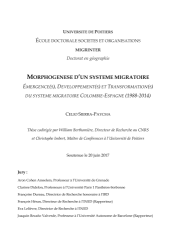 2017-Sierra-Paycha-Celio-These.pdf (41.79 Mo)
Télécharger le fichier
Origin : Version validated by the jury (STAR)