optical pumping of helium-3 at high pressure in a 1.5 Tesla magnetic field
pompage optique de l'helium-3 a forte pression dans un champ magnetique de 1.5 Tesla
We present an experimental and theoretical study of metastability exchange optical pumping of helium-3 in a 1.5 Tesla magnetic field in the pressure range 1-67 mbar. A systematic experimental study has allowed to determine good conditions for efficient optical pumping. At 1.5 Tesla, high nuclear polarizations and fast pumping rates are achieved at high pressure. This extends the domain of applicability of metastability exchange optical pumping. A realistic model allows to discuss the effects of the various involved processes on the efficiency of optical pumping. We show that, in spite of the hyperfine decoupling, optical pumping at 1.5 Tesla retains the high photon efficiency of usual metastability exchange optical pumping. The comparison between experimental and theoretical values of nuclear polarization reveals a relaxation process whose rate increases with the population of the 2 3P excited state and with the pressure.
Nous présentons une étude expérimentale et théorique du pompage optique de l'hélium-3 par échange de métastabilité dans un champ magnétique de 1.5 Tesla entre 1 et 67 mbar. Une étude systématique nous permet de déterminer les conditions expérimentales favorables au pompage optique. A 1.5 Tesla, des polarisations nucléaires élevées et des taux de pompage importants sont obtenus à forte pression, ce qui étend le domaine d'applicabilité du pompage optique par échange de métastabilité. Une modélisation réaliste nous permet de comprendre les effets des divers processus entrant en jeu dans la physique du pompage. Nous montrons qu'en dépit du découplage hyperfin, le pompage optique à 1.5 Tesla conserve les propriétés intrinsèques de haut rendement quantique du pompage optique par échange de métastabilité habituel. L'étude comparée des valeurs expérimentales et théoriques de la polarisation nucléaire met en évidence un processus de relaxation de la polarisation dont le taux augmente avec la densité d'atomes dans le niveau excité
2 3P et avec la pression.
Fichier principal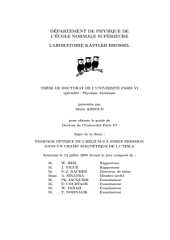 tel-000110991.pdf (2.93 Mo)
Télécharger le fichier
tel-00011099.pdf (605.16 Ko)
Télécharger le fichier