Définition, Réalisation et Tests d'un radar VHF Multifréquence et Multipolarisation - Projet MOSAR
In this thesis, we present the definition, the construction and the tests of a new V.H.F. multifrequency and multipolarization radar.
This system called M.O.S.A.R., radar for the analysis of target resonance (in french : Maquette Orientée pour un Système d'Analyse de Résonances) deals with the aircraft Radar Cross Section measurements in the low V.H.F. frequency band (20 - 100 MHz).
At first, we present the basic characteristics of this project such as the pulse width, the pulse rate, the number of frequency, ... . In a second part, we describe the M.O.S.A.R. system. It consists of a coherent, pulsed, monostatic radar controled by a computer, which is able to measure and record the aircraft backscattered signals. Two different antenna arrays are used for the transmitter and the receiver, each of them constitued by four log-periodic antennas. Then, target parameters (magnitude, phase and Doppler frequency) are obtained by processing methods based on autoregressive spectrum analysis algorithms using forward and backward linear prediction.
Finally, we characterise the behavior and the limitations of this radar and we present several experimental results which confirm the theoretical developments.
Nous présentons dans cette thèse la définition, la réalisation et les tests d'un radar V.H.F. multifréquence et multipolarisation, travaillant dans une gamme allant de 20 à 100 MHz.
Ce système dénommé M.O.S.A.R. (Maquette Orientée pour un Système d'Analyse de Résonances) a pour objectif la mesure des sections efficaces radars d'avions dans cette gamme de fréquence, afin de fournir l'ensemble des connaissances qui permettront de concevoir un futur radar opérationnel, destiné à la détection et à l'identification des cibles aériennes.
Dans un premier temps, nous définissons les caractéristiques principales du système, telles que la largeur de l'impulsion émise, la période de récurrence, le nombre de fréquences utilisées, ... . Ensuite, nous construisons un radar à impulsions, monostatique, cohérent, commandé par ordinateur, capable de mesurer et d'enregistrer les signaux rétrodiffusés par des avions. Ce système emploie deux réseaux d'antennes différents pour l'émission et la réception, chacun de ces réseaux utilisant respectivement quatre antennes log-périodiques dipolaires. Les informations relatives aux cibles (amplitude, phase et fréquence Doppler) sont ensuite extraites par une analyse spectrale non linéaire haute résolution.
Nous évaluons les performances du radar et précisons les limites du système. Enfin, des résultats expérimentaux sont présentés et confirment les choix dans la définition et la réalisation du radar.
Fichier principal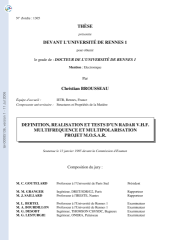 Definition_Realisation_et_Tests_d_un_radar_VHF_Multifrequence_et_Multipolarisation_-_Projet_MOSAR_CBrousseau_Universite_de_Rennes_1_janvier_1995.pdf (6.41 Mo)
Télécharger le fichier