Structural and hydrogeologic study of Mémises Massif western part and its relationships with the quaternary detrical complex of Evian
Etude structurale et hydrogéologique de la terminaison occidentale du Massif des Mémises et de ses relations avec le complexe détritique quaternaire d'Evian
The ain of the study of the Mémises massif (Prealeps Médians Plastiques Chablais - France) is to identify the possible hydrogeologic relations between the Memises massifs ( bed rock and the quaternary deposits) and the plateau Gavot. The fisrt part of the memory is connected with the geological studies; the record one, to the hydrological and hydrogeologyical research's.
The south-western part of the Mémises Massif is made of tilted blocks, N20°E SW dip, normal and listric faults separated. Microstructural analysis demonstrate these structures synchronous with the aberady know folded structures and the numerical results completely fit with the known regional stress fields (σ1 directed N160°E horizontal and σ3 horizontal too). They are also in good agreement with the previous results made in the Prealpes Romandes.
The structural and lithological parameters accredit the following possible circulation net:
- From to W-E, from the Mont-Bénant - Mémises Massifs;
- From N to S and from S to N relatively to the listric faulting.
Such hypothesis war tested, from February 2005 - January 2006. First were done the delimitation of the different; 2 weather stations and 5 limnimetric stations were set up. The water balances of the BV are quite balanced. At the best, the BV can take part in the food of the aquifers of the Plateau Gavot only within the error margin of the balance, i.e up from 15 to 20 L.s-1).
Lastly, the chemical tracings and the δ18O contents in water (springs, drillings) reveal the W to E flows within the karstic net to the south-western part of the Mémises Massif; E to W along the Bénant faults.
Finally, there results confirm the Danone Eaux France safeguard water politics of the Plateau Gavot area.
L'étude du massif des Mémises (Préalpes Médianes Plastiques du Chablais) a pour objectif d'identifier les relations hydrogéologiques possibles entre le substratum rocheux et les dépôts quaternaires du plateau de Gavot. Elle comprend deux volets : un volet géologique et un volet hydrologique et hydrogéologique.
La terminaison SW des Mémises correspond à une succession de blocs séparés par des accidents normaux-listriques orientés N20°E à regard SW. L'analyse microstructurale montre la contemporanéité de ces structures et des structures plicatives déjà connues. Les résultats numériques obtenus s'intègrent dans les champs de contraintes régionaux connus (système décrochant, σ1 orienté N160°E) et sont en accord avec les travaux réalisés dans les Préalpes Romandes.
Les paramètres structuraux et lithologiques accréditent un schéma de circulations des eaux possible pour la zone d'étude : écoulement W-E au sein du Mont Bénant - Massif Mémises et N-S ainsi que S-N au sein les accidents listriques. Ce schéma a été testé, sur la période février 2005 – janvier 2006, en réalisant le bilan hydrologique à partir de la délimitation des bassins versants (BV) et de l'implantation de 2 stations météorologiques et de 5 stations limnimétriques. Les bilans hydrologiques des BV sont globalement équilibrés. Les BV ne peuvent donc participer à l'alimentation des aquifères de Gavot que dans la marge d'erreur des bilans (jusqu'à 15 à 20 L.s-1).
Enfin, les traçages chimiques et les teneurs en δ18O des eaux (sources, forages) révèlent que les écoulements se font dans le substratum rocheux d'W en E via le réseau karstique pour le synclinal des Mémises et d'W en E et d'E en W sur fractures pour le Mont-Bénant.
L'ensemble de ces résultats confirme la cohérence de la politique de préservation des ressources mise en place par Danone Eaux France.
Fichier principal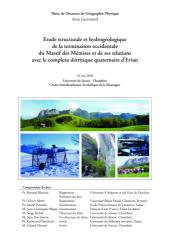 Anne-GUYOMARD-these.pdf (68.77 Mo)
Télécharger le fichier
Annexe_4-M_t_o.xls (3.69 Mo)
Télécharger le fichier
Annexe_5-d_bits_infra_horaire.xls (36.52 Mo)
Télécharger le fichier
carte-coupes.pdf (9.36 Mo)
Télécharger le fichier