Mesures QND en electrodynamique quantique en cavite : production et decoherence d'etats de Fock ; effet Zenon quantique
We have implemented a Quantum Non Demolition measurement of the photon number of a field stored in a cavity of damping time T=0.13s. We send circular Rydberg atoms in the cavity. A dispersive interaction shifts the atomic frequency linearly in the photon number. This light-shift is detected by atomic Ramsey interferometry. The cavity damping time is long enough to observe the quantum jumps induced by relaxation. By a statistical analysis of the different trajectories, we carry out a partial tomography of this process responsible for the decoherence of the Fock states |n> within a time T/n. The projection of the initially coherent field onto a Fock state during a measurement completely blurs the field phase simultaneously. This back-action can freeze the coherent growth of the field by quantum Zeno effect.
Nous avons realise une mesure Quantiques Non Destructives du nombre de photons d'un champ piege dans une cavite de temps d'amortissement T=0,13s. Nous envoyons des atomes de Rydberg circulaires a travers la cavite ou une interaction dispersive deplace leur frequence propre proportionnellement au nombre de photons. Ce deplacement lumineux est detecte par interferometrie atomique de Ramsey. Le temps d'amortissement du champ est suffisamment long pour permettre d'observer les sauts quantiques du nombre de photons dus a la relaxation. L'analyse statistique des differentes trajectoires permet de realiser une tomographie partielle de ce processus responsable de la decoherence des etats de Fock |n> en un temps T/n. La projection d'un champ initialement coherent sur un etat de Fock lors de la mesure s'accompagne d'une dispersion totale de sa phase. Cette action en retour est utilisee pour geler la croissance coherente du champ par effet Zenon quantique.
Fichier principal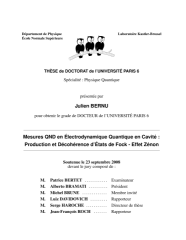 Main.pdf (10.12 Mo)
Télécharger le fichier
Soutenance_Julien_BERNU.ppt (10.61 Mo)
Télécharger le fichier