Electromagnetically induced transparency and quantum memory in cesium vapor
Transparence induite électromagnétiquement et mémoire quantique dans une vapeur de césium
This thesis is devoted to the physical implementation of a quantum memory using electromagnetically induced transparency (EIT) in cesium vapor as well as a source of squeezed vacuum at 852 nm.
A light-matter interface based on EIT has been implemented and its performance characterized by the storage and retrieval of coherent states. The process is coherent and has no excess noise. The performance of the system has been assessed in terms of fidelity and also using the T-V diagram.
The EIT process using the D2 line of a cesium vapor has been studied, both theoretically and experimentally, and has shown the combined effect of the hyperfine structure and the Doppler broadening on the effective transparency of the medium.
In order to store non-classical states of light in the memory, a squeezed vacuum source at 852 nm has been implemented and the output characteristics analyzed by quantum tomography. The source is based on an optical parametric oscillator operated below threshold.
Cette thèse est consacrée à la réalisation expérimentale d'une mémoire quantique par transparence induite électromagnétiquement (EIT) dans une vapeur de césium ainsi que d'une source de vide comprimé à 852 nm.
Une interface lumière-matière reposant sur le phénomène d'EIT a été démontrée et ses performances ont été étudiées par stockage et restitution d'états cohérents. La cohérence du processus de mémoire et l'absence de bruit ajouté ont été mises en évidence, ainsi que les performances en termes de fidélité et à l'aide du diagramme T-V.
Une étude à la fois expérimentale et théorique du phénomène d'EIT sur la raie D2 d'une vapeur de césium a permis de préciser l'effet conjugué de la structure hyperfine et de l'élargissement Doppler sur les transparences obtenues.
Afin d'étudier la mémoire avec un état non classique du champ, une source de vide comprimé à 852 nm a été développée et les caractéristiques de l'état de sortie ont été analysées par tomographie quantique. La source utilisée est un oscillateur paramétrique optique fonctionnant sous le seuil.
Fichier principal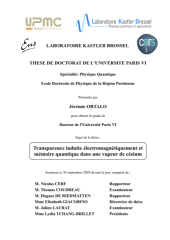 Manuscrit_these.pdf (3.43 Mo)
Télécharger le fichier
Soutenance_these.ppt (4.11 Mo)
Télécharger le fichier