Waste management and environmental and ecological inequalities in Lima: between sustainability and vulnerability
Gestion des déchets et inégalités environnementales et écologiques à Lima : entre durabilité et vulnérabilité.
Waste management (of solid waste and residual waters) in major Latin American cities often is implemented to the detriment of the most vulnerable populations. They have less easy access than others to collection services and they are more frequently exposed to the nuisances of waste collected in the other parts of the city. While these cities, like Lima in Peru, have greatly improved their waste management over the last few decades, inequalities continue to be significant. They are "environmental inequalities" when referring to the reception of "good" and "bad" environmental aspects, or as "ecological inequalities" when one takes into account the inhabitants' ecological footprints. In any case, these two inequalities are mutually reinforced and often place this same population at a disadvantage. These inequalities can be interpreted through the prism of risk transfer and vulnerability differentials, which if more taken into account could permit the improvement of waste management in the lessening of vulnerabilities at different scales and the move towards increased sustainability.
La gestion des déchets dans les métropoles d'Amérique Latine (déchets solides et eaux usées) s'effectue le plus souvent au détriment des populations les plus vulnérables. Elles ont moins facilement que les autres accès aux services de collecte et elles sont plus fréquemment exposées aux nuisances des déchets collectés dans le reste de la ville. Si ces villes, telles que Lima au Pérou, ont grandement amélioré la gestion de leurs déchets au cours des dernières décennies, les inégalités restent importantes. Elles sont qualifiées d'inégalités « environnementales » concernant la réception de "bien" et de "maux" environnementaux, ou d'inégalités « écologiques » lorsque l'on prend en compte l'empreinte écologique des habitants. Dans tous les cas, ces deux inégalités se renforcent mutuellement en défavorisant bien souvent les mêmes populations. Elles sont interprétables à travers le prisme des transferts de risques et des différentiels de vulnérabilité, qui, s'ils étaient davantage pris en compte, permettraient d'améliorer la gestion des déchets en diminuant les vulnérabilités à différentes échelles et en allant vers plus de durabilité.
Fichier principal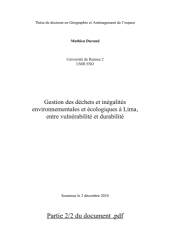 DURAND_M._ThA_se_DA_chets_A_Lima-2de2.pdf (75.59 Mo)
Télécharger le fichier

DURAND_M._ThA_se_DA_chets_A_Lima-1de2.pdf (84.53 Mo)
Télécharger le fichier