Search for weak or transient sources in the inner Galactic plane regions with H.E.S.S. Application to the study of the W49B supernova remnant region.
Recherche de sources ténues ou transitoires dans les régions centrales de la Galaxie avec H.E.S.S. Application à l'étude de la région du vestige de supernova W49B.
H.E.S.S. (High Energy Stereoscopic System) is an array of four very-high energy (VHE) gamma-ray telescopes located in Namibia. These telescopes use the atmospheric Cherenkov imaging technique to detect gamma-rays between 100 GeV and a few tens of TeV. The H.E.S.S. cameras, each composed of 960 photomultiplier tubes and a fast electronics, need an accurate calibration of the shower to electronic signal conversion. A parasit capacitive coupling between the photomultiplier tubes and the data acquisition system (the common modes) was revealed and corrected during this thesis, resulting in data of better quality. H.E.S.S. is ideally located to observe the inner regions of the Galactic plane. Hence, the Galactic Plane Survey has been one of the primary goal since the beginning of the array operation in 2004 and led to unveiling the diversity of the VHE gamma-ray sources. This thesis presents the search for VHE gamma-ray sources in the inner regions of the Galactic plane using the most sensitive semi-analytical model based analysis currrently available. A search for transient sources was also performed for these regions using powerfull methods based on the time difference between consecutive events. Theses methods have been precisely characterized by simulation and didn't lead to the detection of significant variable sources. The very-high energy gamma-ray emission from the W49 region and the supernova remnant W49B in particular has been revealed during this thesis. The analysis of this region and the implications of this discovery are described in detail in this manuscript.
L'expérience H.E.S.S. (High Energy Stereoscopic System) est un réseau de quatre télescopes dédié à l'astronomie gamma de très haute énergie et situé en Namibie. Ces télescopes utilisent la technique de l'imagerie Cherenkov atmosphérique en mode stéréoscopique pour détecter des rayons gamma entre 100 GeV et quelques dizaines de TeV. Les caméras de H.E.S.S., dotées de 960 photomultiplicateurs et d'une électronique rapide, nécessitent un étalonnage précis de la réponse de l'instrument au signal généré par les gerbes. Un couplage capacitif parasite entre les photomultiplicateurs et le système d'acquisition a été révélé et corrigé au cours de cette thèse, résultant en un étalonnage de meilleure qualité. H.E.S.S. bénéficie d'une situation géographique optimale pour l'observation des régions centrales de la Galaxie. Le relevé du plan Galactique a ainsi été un des objectifs principaux de H.E.S.S. dès le début des prises de données en 2004. Cette thèse présente la recherche de sources dans les régions centrales de la Galaxie en utilisant les méthodes d'analyse par modèle semi-analytique les plus sensibles disponibles actuellement. Une recherche de sources transitoires a également été effectuée. Les méthodes utilisées, caractérisées en détail au moyen de simulations, s'appuient sur les intervalles temporels entre les événements et n'ont pas révélées de sources significativement variables. La détection d'émission gamma de très haute énergie en direction de la région W49 et du vestige de supernova W49B en particulier a été mise en évidence durant cette thèse. L'étude de cette région et les implications de ce résultats sont présentées en détails dans ce manuscrit.
Fichier principal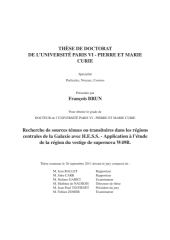 Manuscrit_FBrun_1011.pdf (21.39 Mo)
Télécharger le fichier

Soutenance_F.pdf (49.46 Mo)
Télécharger le fichier