Electrode biomaterials employed in fabrication and characterization of immunosensor and enzymatic biofuel cells.
Biomatériaux d'électrode appliqués à la réalisation et à la caractérisation d'un biocapteur immunologique et de biopiles enzymatiques
This work is focused on the development of an impedimetric immunosensor and two enzymatic biofuel cells. Firstly, poly(pyrrole-NHS) is used to graft a model of the ciprofloxacin antibiotic (CF) and its specific antibody (Ab) in two steps. The displacement of the antibody in solution directed by a strong affinity between Ab and CF is monitored by electrochemical impedance spectroscopy. The detection limit is 10-12 g mL-1. Secondly, production of electricity is studied by two different methods. The first one is based on the creation of a pH difference driven enzymatically by glucose oxidase (GOx) and urease. This pH gradient is converted to e.m.f. by adding a pH-dependant redox couple. The second method uses glucose/O2 fu
Ce mémoire est consacré au développement d'un immunocapteur impédancemétrique et de deux biopiles enzymatiques. Premièrement, le poly(pyrrole-NHS) est utilisé pour l'immobilisation successive d'un modèle de la ciprofloxacine (CF) et de l'anticorps dirigé spécifiquement contre CF. La détection est réalisée par la spectroscopie d'impédance électrochimique. Elle détecte le déplacement en solution de l'anticorps. Le seuil de détection est de 1.10-12 g.mL-1. Deuxièmement, la production énergétique est abordée suivant deux approches. La première se base sur l'apparition d'un gradient de pH produit par deux enzymes (la GOx et l'uréase) et converti en f.e.m. en utilisant un couple rédox sensible au pH. La seconde, repose sur les propriétés biocatalytiques de la GOx d'oxyder le glucose et de la polyphénol oxydase de réduire le dioxygène. Cette pile est capable de fonctionner aussi bien in vitro que in vivo. Une fois optimisée, la pile affiche une f.e.m. de 315 mV et une puissance de 27 μW.
Fichier principal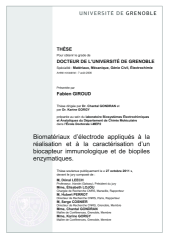 These_Fabien_-_GIROUD1.pdf (11.94 Mo)
Télécharger le fichier
Origin : Version validated by the jury (STAR)