Littelmann path model for geometric crystals, Whittaker functions on Lie groups and Brownian motion.
Modèle de Littelmann pour cristaux géométriques, fonctions de Whittaker sur des groupes de Lie et mouvement brownien.
Generally speaking, this thesis focuses on the interplay between the representations of Lie groups and probability theory. It subdivides into essentially three parts. In a first rather algebraic part, we construct a path model for geometric crystals in the sense of Berenstein and Kazhdan, for complex semi-simple Lie groups. We will mainly describe the algebraic structure, its natural morphisms and parameterizations. The theory of total positivity will play a particularly important role. Then, we anticipate on the probabilistic part by exhibiting a canonical measure on geometric crystals. It uses as ingredients the superpotential for the flag manifold and a measure invariant under the crystal actions. The image measure under the weight map plays the role of Duistermaat-Heckman measure. Its Laplace transform defines Whittaker functions, providing an interesting formula for all Lie groups. Then it appears clearly that Whittaker functions are to geometric crystals, what characters are to combinatorial crystals. The Littlewood-Richardson rule is also exposed. Finally we present the probabilistic approach that allows to find the canonical measure. It is based on the fundamental idea that the Wiener measure will induce the adequate measure on the algebraic structures through the path model. In the last chapter, we show how our geometric model degenerates to the continuous classical Littelmann path model and thus recover known results. For example, the canonical measure on a geometric crystal of highest weight degenerates into a uniform measure on a polytope, and recovers the parameterizations of continuous crystals.
De façon générale, cette thèse s'intéresse aux liens entre théorie des représentations et probabilités. Elle se subdivise en principalement trois parties. Dans un premier volet plutôt algébrique, nous construisons un modèle de chemins pour les cristaux géométriques de Berenstein et Kazhdan, pour un groupe de Lie complexe semi-simple. Il s'agira pour l'essentiel de décrire la structure algébrique, ses morphismes naturels et ses paramétrisations. La théorie de la totale positivité y jouera un role particulièrement important. Ensuite, nous avons choisi d'anticiper sur les résultats probabilistes et d'exhiber une mesure canonique sur les cristaux géométriques. Celle-ci utilise comme ingrédients le superpotentiel de variété drapeau, et une mesure invariante sous les actions cristallines. La mesure image par l'application poids joue le role de mesure de Duistermaat-Heckman. Sa transformée de Laplace définit les fonctions de Whittaker, fournissant une formule intégrale particulièrement intéressante pour tous les groupes de Lie. Il apparait alors clairement que les fonctions de Whittaker sont aux cristaux géométriques, ce que les caractères sont aux cristaux combinatoires classiques. La règle de Littlewood-Richardson est aussi exposée. Enfin nous présentons l'approche probabiliste permettant de trouver la mesure canonique. Elle repose sur l'idée fondamentale que la mesure de Wiener induira la bonne mesure sur les structures algébriques du modèle de chemins. Dans une dernière partie, nous démontrons comment notre modèle géométrique dégénère en le modèle de Littelmann continu classique, pour retrouver des résultats connus. Par exemple, la mesure canonique sur un cristal géométrique de plus haut poids dégénère en une mesure uniforme sur un polytope, et retrouve les paramétrisations des cristaux continus.
Fichier principal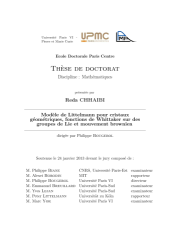 These-CHHAIBI.pdf (1.38 Mo)
Télécharger le fichier
Soutenance.pdf (369.45 Ko)
Télécharger le fichier