Alsatian dialects in the media : what do they show of the Alsace region in the programs cast by the regional TV station ?
Les dialectes dans les médias : quelle image de l'Alsace véhiculent-ils dans les émissions de la télévision régionale ?
This doctor's thesis aims at discussing the programs in dialect on the Alsatian public television network (France 3 Alsace), from 1966 to 2008. The following questions are dealt with: what sense does their presence make, since most of the regional audience understands one or more standard languages? To what extent do these programs reflect the regional multilingualism? What do they show of the Alsatian region, especially through the use of the dialects? This study is based on a corpus of more than 2000 programs archived by the National Audiovisual Institute (INA), which we introduce by telling the story of the regional television. After building a theoretical framework mixing linguistic and sociologic approaches, we discuss the methodological issues about how to define a « dialectal program », and which ones are going to be analysed in a (socio)linguistic way. We then proceed to the formal and linguistic analysis of a selection of 7 programs that are transcripted and commented on with a special focus on social representations, in order to get answers to our main research questions.
Ce travail de thèse est consacré à l'étude des programmes télévisuels diffusés sur la chaîne de télévision publique France 3 Alsace, de 1966 à 2008. Quel est le sens social, voire identitaire, de la présence de telles émissions, alors que la grande majorité des téléspectateurs potentiels comprend au moins une langue standard ? En quoi ces émissions sont-elles un reflet du plurilinguisme régional ? Quelle image de l'Alsace véhiculent-elles, notamment par le biais de la langue ? L'étude s'appuie sur un corpus de plus de 2000 émissions mis à notre disposition par l'Institut Nationale de l'Audiovisuel (INA), dont nous présentons le contenu en retraçant l'histoire de la télévision régionale. Après avoir élaboré un cadre théorique à la croisée de disciplines tant linguistiques (dialectologie, sociolinguistique) que sociologique (sociologie des médias, sciences de l'information et de la communication), nous présentons la démarche méthodologique employée pour l'exploitation de notre corpus. A l'issue de cette étape, nous retenons sept émissions, transcrites et analysées sur les plans formels et linguistiques, de manière à obtenir des éléments de réponse à nos questions de recherche.
Fichier principal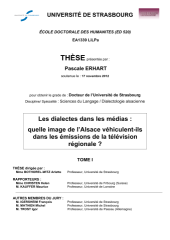 Erhart_Pascale_2012_ED520.pdf (16.94 Mo)
Télécharger le fichier
Origin : Version validated by the jury (STAR)