Les réfugiés congolais au Gabon : modes de circulation et d'installation dans un espace frontalier
Gabon, a country of immigration since the colonial time, has started to receive refugees since 1968 with the arrival of Biafran children from Nigeria. Gabon has then received refugee populations originating in majority from Africa. In 2002, the country had 24 different nationalities of refugees on its territory. But Congolese refugees constitute the largest quota and also represent the most important flow of refugees Gabon has ever received. Those ones arrived in Gabon essentially at the end of the 1990's following the successive wars in Republic of Congo. Congolese refugees' presence in Gabon is a geographical (Gabon and Congo share a frontier of 1903km) and ethnic proximity refuge (we find the same ethnic groups on the both sides of the frontier namely Punu, Nzèbi, Vili, Téké etc). Those countries were also part of the FEA (French Equatorial Africa). If in the international law, the refugee is not authorized to go back home without a repatriation process, this study questions the enforcement of that international law in a context of geographical and ethnic proximity. Analyses conducted in this work show that the rapprochement of the frontier influences the mobilities of the Congolese refugees on the border area, they travel between the two countries. That situation calls into question the definition of the type of refugee as stated by the international law in so far as in that case, refugees use both territories (guest country and country of departure) for their integration. The use by Congolese refugees of both sides territories bounded by the state frontier allows to understand that the escape, which is originally constraint, takes the a shape of an "economic migration"
Le Gabon, pays d'immigration depuis la colonisation a appris à accueillir les réfugiés depuis 1968 avec l'arrivée des enfants biafrais du Nigeria. Il a ensuite reçu des populations réfugiées originaires majoritairement de l'Afrique. En 2002, le pays comptait sur son territoire 24 nationalités différentes de réfugiés. Mais, les réfugiés congolais constituent le plus gros contingent et représentent aussi le plus important flux de réfugiés que le Gabon n'ait jamais reçu. Ils sont arrivés au Gabon essentiellement à la fin de la décennie 1990 suite aux guerres successives en République du Congo. La présence des réfugiés congolais au Gabon est un refuge de proximité géographique (le Gabon et le Congo partage une frontière de 1903 km) et ethnique (on trouve les mêmes groupes ethniques des deux côtés de la frontière à savoir les Punu, les Nzèbi, les Vili, les Téké, etc.). Ces pays ont aussi appartenu à l'AEF (Afrique Equatoriale Française). Si dans le droit international, le réfugié n'est pas autorisé à repartir dans son pays d'origine sans avoir procédé au rapatriement, cette étude interroge l'application de ce droit international dans un contexte de proximité géographique et ethnique. Les analyses conduites dans ce travail montrent que le rapprochement de la frontière influence les mobilités des réfugiés congolais dans la zone frontalière ils circulent entre les deux pays. Cette situation interroge la catégorie de réfugié telle qu'énoncée par le droit international dans la mesure où dans ce cas, les réfugiés utilisent les deux territoires (pays d'accueil et pays de départ) pour leur insertion. L'utilisation par les réfugiés congolais des deux territoires limités par la frontière étatique permet de comprendre que la fuite, à l'origine contrainte, se transforme en une forme de " migration économique ".
Fichier principal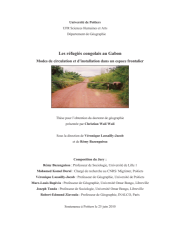 WALI_WALI_2010_Les_refugies_congolais_au_Gabon.pdf (12.28 Mo)
Télécharger le fichier