Optimal design of architectured sandwich panels for multifunctional properties
Conception architecturale appliquée aux matériaux sandwichs pour propriétés multifonctionnelles.
The present thesis aims at developing a design method dedicated to the optimization of architectured sandwich panels for multifunctional properties following a "materials-by-design" approach. This method is based on a genetic algorithm which enables to deal with materials selection (discrete variables) and geometrical dimensioning (continuous variables) simultaneously. Three core architectures have been investigated: foams, hexagonal honeycombs and tetrahedral truss structures. In this thesis, two main paths for material selection are defined. In the first one, architectured materials are considered as existing materials with properties referenced in a closed materials database. This is called the "real path" optimization. In order to expand the range of possibilities in terms of materials selection, a semi-continuous description of the architectured materials is considered in the second path, which is called "virtual path" optimization. The core material is described by a constitutive material (discrete variable) and a set of continuous geometrical variables representing the architecture. Using these two aforementioned approaches, several working properties of sandwich panels have been evaluated: flexural stiffness and strength, acoustic damping, thermal resistance and insulation, and finally blast mitigation. Bi-objective optimizations were performed in order to optimize each property in a minimal weight design. Some tri-objective cases are also presented, thus assessing the compatibility between different specifications. Indeed, this is achieved by relating trade-off surface shape to the compatibility between specifications. The optimization results also help identify the optimal design regarding the different criteria. Using the "virtual path" approach, a direct comparison between the different core architectures is achievable. Nevertheless, by being global and dealing with mixed variables, the obtained optimization process is complex. Two mixed methods where genetic algorithm is coupled with other approaches are proposed in order to increase the analysis complexity while providing a reasonable optimization complexity.
Cette thèse suit une démarche « materials-by-design » avec pour objectif le développement d'une méthode de conception dédiée aux panneaux sandwichs architecturés pour l'obtention de propriétés multifonctionnelles. Cette méthode s'appuie sur l'utilisation d'un algorithme génétique permettant simultanément une sélection de matériaux (variables discrètes) et un pré-dimensionnement du panneau (variables continues). Trois architectures de cœur ont été étudiées : les mousses, les nids-d'abeilles hexagonaux et les treillis tétraédriques. Dans cette thèse, on définit deux approches différentes de sélection des matériaux. Dans un premier temps, les matériaux architecturés sont considérés comme des matériaux existants, dont les propriétés sont référencées dans une base de données fermée. Cette approche est appelée optimisation par « voie réelle ». Afin d'ouvrir les possibilités en termes de sélection de matériaux, la deuxième approche considère une description semi-continue des matériaux architecturés et est appelée optimisation par « voie virtuelle ». Le matériau cœur est décrit par un matériau constitutif (variable discrète) et par une ou plusieurs variables géométriques continues représentant l'architecture. Utilisant ces deux approches, différentes propriétés d'emploi des panneaux sandwichs sont évaluées : rigidité et résistance en flexion, atténuation acoustique, résistance et isolation thermique, et enfin résistance aux chocs impulsionnels. Chaque fonction est optimisée à masse minimale par optimisation bi-objectifs. Différents cas d'optimisation tri-objectifs sont également présentés afin d'évaluer la compatibilité entre propriétés. En effet, la forme de la surface de compromis obtenue donne une indication sur la compatibilité entre les différents critères. Cette étape d'optimisation permet également l'identification des paramètres de conception optimaux. Dans le cas d'une optimisation par « voie virtuelle », une comparaison directe entre architectures est aussi possible. Cependant, la démarche d'optimisation mise en place est complexe car globale et travaillant avec des variables mixtes. Deux méthodes mixtes, couplant l'algorithme génétique avec d'autres approches, sont proposées pour permettre un accroissement de la complexité de l'analyse tout en garantissant une complexité raisonnable de l'optimisation.
Fichier principal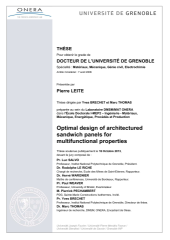 36952_LEITE_2013_archivage.pdf (18.59 Mo)
Télécharger le fichier
Origin : Version validated by the jury (STAR)