Activity Trace Corpora in Technology Enhanced Learning environments : modeling, analysis and management platform, application to the construction of reference corpora.
Corpus de traces d'activité dans les environnements informatiques pour l'apprentissage humain : modélisation, étude d'une plateforme de gestion, et application à la construction de corpus de référence.
This work is part of the "TEL Environments customization" project studying the use ofactivity traces in the evaluation and customization of mediated learning situations. Analyzingtraces is generally performed using analysis tools developed by researchers specifically fortheir needs. Published research results can generally not be verified or compared, due todifficulties of sharing corpora and analysis tools. The aim of this research work is to provideresearchers using TEL environments in their researches with a platform to share corpora ofcontextualized interaction traces and analyses performed on them, and to analyse thosecorpora using shared analysis and visualization tools. Heterogeneity of traces produced byTEL environments, due to the diversity of learning domains and to analysis needs makes theproposition of a common representation cannot satisfy the various needs of multidisciplinaryresearchers. We propose the "proxy" approach, a participative and incremental solution basedon an ontology which defines three models: a corpus model defining the structure anddescription metadata of the corpus and its contents, a semantic model defining genericconcepts which can be retrieved in shared corpora, and an operational model defining a set ofoperations ensuring interoperability between shared corpora and analysis tools. Based on thisapproach, we propose a platform architecture for sharing traces corpora and analysis toolsallowing researchers to share their own corpora, to access to shared corpora, and to analyzethem.
Ce travail s'inscrit dans le projet « Personnalisation des EIAH » étudiant l'utilisationdes traces d'activité dans l'évaluation et la personnalisation des situations d'apprentissagemédiatisées. L'analyse des traces se fait généralement par des outils d'analyse réalisés par leschercheurs et spécifiques à leurs besoins. Les résultats publiés ne peuvent généralement pasêtre vérifiés ni comparés, ceci étant dû aux difficultés de partage des corpus et des outilsd'analyse. L'objectif de ce travail est de proposer aux chercheurs utilisant les EIAH, uneplateforme pour le partage, d'une part des corpus de traces d'interaction contextualisées et lesanalyses réalisées sur ces corpus, et des outils d'analyse et de visualisation des traces d'autrepart. L'hétérogénéité des traces produites par les EIAH, due à la variété des domainesd'apprentissage et des besoins d'analyse, fait que la proposition d'une représentationcommune ne peut répondre aux différents besoins de chercheurs pluridisciplinaires. Nousproposons l'approche par « proxy », une solution participative et incrémentale basée sur uneontologie qui définit trois modèles : un modèle de corpus définissant la structure et lesmétadonnées de description du corpus et son contenu, un modèle définissant les conceptsgénériques pouvant être retrouvés dans les corpus, et un modèle opérationnel définissant desopérations assurant l'interopérabilité entre un corpus et un outil d'analyse partagé. En nousbasant sur cette approche, nous proposons une architecture de plateforme de partage decorpus de traces et d'outils d'analyse permettant aux chercheurs de partager leurs corpus,d'accéder aux corpus partagés, et de les analyser.
Fichier principal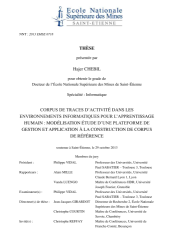 CHEBIL_Hajer_diff.pdf (7.15 Mo)
Télécharger le fichier
Origin : Version validated by the jury (STAR)