Giving Birth to Citizenship
Accoucher la citoyenneté. Expériences et témoignages de femmes sans-papiers à propos de leur travail maternel.
The PhD deals with issues of motherhood in relation to citizenship and migration and tackles a postcolonial feminist (including maternalist and intersectionality) and anthropological perspective.
La thèse traite des questions de maternité en relation avec la citoyenneté et la migration à partir d'une perspective postcoloniale, féministe (dont maternalistes et intersectionelles) et anthropologique. Elle suivra les parcours post-migratoires et les pratiques maternelles de 10 femmes sans-papiers au sein de leur entourage, découvrant des domaines de vie divergents dont le combat juridique, l'accompagnement scolaire, le marché du travail informel, la menace d'un placement pour leurs enfants et le travail maternel chez-soi.
Fichier principal

doctorat.pdf (1.24 Mo)
Télécharger le fichier

isbn_1_.jpg (94.71 Ko)
Télécharger le fichier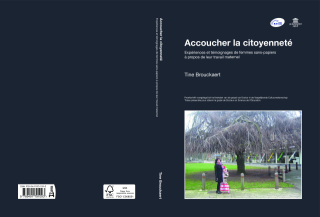 kaft.pdf (561.01 Ko)
Télécharger le fichier