Preparation of flexible lithium ion batteries using cellulose fibres and a water-based filtration process.
Utilisation de procédés papetiers et de fibres cellulosiques pour l'élaboration de batteries Li-ion Elaboration of Li-ion batteries using cellulose fibers and papermaking techniques
This work investigates the production of low cost, low environmental impact, easily up-scalable and recyclable cellulose-based Li-ion batteries. Two main research approaches were explored. At first, microfibrillated cellulose was used for the production of paper-like anodes by means of a water-based casting process.Then, a papermaking approach was adopted and the majority of the experimental work was focused on the use of cellulose fibers for the production of paper-electrodes (i.e. anodes and cathodes) and paper-separators by means of a water-based filtration process.The prepared electrodes are easy to handle and self-standing with good electrochemical characteristics, comparable with that of standard synthetic polymer-bonded electrodes.
L'objectif du travail décrit dans cette thèse est de développer des batteries Li-ion peu coûteuses, respectueuses de l'environnement, facilement industrialisables et recyclables, tout en utilisant des fibres cellulosiques et un procédé en milieu aqueux. Deux approches ont été adoptées pendant ce travail expérimental. Dans un premier temps, les microfibrilles de cellulose ont été utilisées pour la production d'anodes par un procédé de casting. Puis, une approche papetière a été adoptée. La plupart des travaux expérimentaux se sont focalisés sur l'utilisation de fibres de cellulose pour la production d'électrodes papier (anodes et cathodes) et de séparateurs-papier par procédé de filtration en milieu aqueux pour obtenir des cellules complètes à base de cellulose. Les électrodes obtenues sont homogènes, souples et leurs propriétés électrochimiques comparables à celles d'électrodes de références utilisant un polymère de synthèse comme liant.
Fichier principal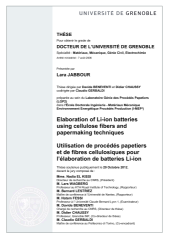 Jabbour_Lara_2012_diffusion.pdf (32.45 Mo)
Télécharger le fichier
Origin : Version validated by the jury (STAR)