The vine and the olive tree in corsica : studies in geolinguistic and lexical semantics
La vigne et l'olivier en Corse : études de géolinguistique et de sémantique lexicale
S'iscriviistatesi in u prugrammaNouvel Atlas Linguistique de la Corse è Banque de Données Linguistiques Corses è più particularmenti in a priparazioni di u quartuvulumu à prò di l'agricultura. À partasi di unaracoltaannant'àlocu è di u lessicu è di i tecnichi di a vigna è di l'alivu, hèfattuunustudiu di geolinguistica è di semanticalessicale, à partasi di un corpus uralichìcunteni i dati di a BDLC è di inchiestiparsunali. L'esamini di a ripartizionigeoliguisticatratta di l'insemi di i varietàdialettaliisulani è ghjèaccumpagnata di cummentietimulogichi è semantichi d'ugniterminicurrispundanti à i temaammintati. Da stradàistutravaddu, ci simuaiutatipà u più di i travaddirializatiind'è u restu di u duminiuitalorumanzu, in particularicù un spoddusistematicu di dizziunariaetimulogichi, storichi et dialettali ; ciòchìparmetti di dàuna misura cumparatista à u nosciustudiu. Istaricercapruponaunusviluppu di duiiassiprincipali : d'un cantu, a valutazioni di a diversitàlinguistica è a messa in luci di i leiaincù l'aghjivicini à a Corsica et d'un altrucantu, stabiliscia i prucessi di furmazionilessicalichìparmettani, aldilà di ritraccià l'andatura di a lingua, di fidighjà i caratteristichi di i lessichi di l'alivu è di a vigna (lessicuspecificu vs lessicughjinirali ; lessicueridatu vs custruzzionimutivati ; l'analugii è i sfarenzi).Parollichjavi : dialettulugia, geografialinguistica, corsica, aliva, vigna, etimulugia, semantisimu.
This thesisis part of the Program calledNew Linguistic Atlas of Corsica and LinguisticCorsican Data Bank and more specifically in the preparation of the fourth volume devoted to agriculture. From a field collection of vocabulary and techniques related to the viticulture and winegrowing, a study of geo-linguistic and lexical semantics has been done, from the spoken corpus data includingBLDC and personalsurveys. Examination of the distribution geolinguisticcovers all the islanddialects and isaccompanied by etymological and semanticcommentseachtermcorresponding to the topicdiscussed. To conductthiswork, weparticularlyrelied on the workdone in the rest of the Italian-Roman field -, includingthrough a systematicanalysis of etymologicaldictionaries, historical and dialectological ,whichallows to give a comparative dimension to ourstudy.This research proposes a development of two main areas: first, evaluate the linguisticdiversity and highlightrelationshipswithneighboring areas to Corsica and secondly, establishprocesses for lexical training, also to trace the language, observe the characteristics of the wine and olive lexicons (specificlexicon vs. generallexicon; lexiconinherited vs motivated constructions and the similarities and differences).
Cette thèse s'inscrit dans le programme Nouvel Atlas Linguistique de la Corse et Banque de Données Linguistiques Corses et plus particulièrement dans la préparation du quatrième volume consacré à l'agriculture. A partir d'une collecte sur le terrain du lexique et des techniques relatifs à l'oléiculture et à la viticulture, une étude de géolinguistique et de sémantique lexicale est réalisée, à partir du corpus oral comprenant les données de la BDLC et d'enquêtes personnelles. L'examen de la répartition géolinguistique porte sur l'ensemble des variétés dialectales insulaires et est accompagné de commentaires étymologiques et sémantiques de chaque terme correspondant aux thèmes abordés. Pour conduire ce travail, nous nous sommes en particulier appuyés sur les travaux réalisés dans le reste du domaine italo-roman, notamment à travers un dépouillement systématique de dictionnaires étymologiques, historiques et dialectaux ; ce qui permet de donner une dimension comparatiste à notre étude. Cette recherche propose un développement de deux principaux axes : d'une part, l'évaluation de la diversité linguistique et la mise en évidence des rapports avec les aires voisines à la Corse et d'autre part, établir les processus de formation lexicale permettant, outre de retracer le cheminement de la langue, d'observer les caractéristiques des lexiques oléicole et viticole (lexique spécifique vs lexique général ; lexique hérité vs constructions motivées ; les analogies et les différences).
Fichier principal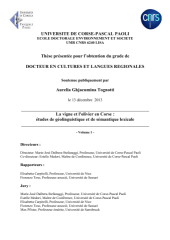 pdf2star-1416997394-2013_TOGNOTTI_Aur--lia_Ghjacumina-VF.pdf (55.53 Mo)
Télécharger le fichier
Origin : Version validated by the jury (STAR)