Place of coastal risks in living area representation by people with stakes on « at risk » municipalities
Place des risques côtiers dans la représentation du cadre de vie d'individus possédant des enjeux sur des communes "à risque"
During the 20th century, new stakes appeared on coastal areas. Moreover in february 2010, the devastation caused by the storm Xynthia has effected a strengthening of coastal risk management policies. The workload of local managers has evolved consequently. Now they have to integrate risks management into daily operations. This implies an interest in populations. Most especially on representations of their environment and translation of coastal risks. Our survey is studying representation of environment from people who live on coastal areas. Most especially the place of coastal risks in those representation. Our starting point is that the représentation of coastal risks belongs to specific environmental and social factors. With this in mind, we made assumptions which have been subjected to several qualitative surveys and a questionnaire. Those analyses confirmed that representation of coastal risks depend from the way in which they grasp and use their environment. Most espacially it depend from spatio-temporal, social and attitudinal dimension of the at risk area.
Au cours du 20ème siècle de nouveaux enjeux sont apparus sur les espaces littoraux. En février 2010, les ravages causés par la tempête Xynthia ont provoqué un renforcement des réglementations relevant de la gestion des risques côtiers. La tâche des gestionnaires locaux a évolué en conséquence. Il leur incombe aujourd'hui d'intégrer ces réglementations dans leur gestion quotidienne. Ils sont donc amenés à s'intéresser aux populations concernées et, plus précisément, à leur représentation de leur cadre de vie ainsi qu'à leur compréhension des risques côtiers. Notre étude s'intéresse à la représentation du cadre de vie d'individus qui résident sur un espace « à risque ». Plus précisément, nous nous intéressons à la place que peuvent avoir les risques côtiers dans cette représentation. Initialement, nous supposions que la représentation des risques dépendait de facteurs sociaux et environnementaux spécifiques. Nous avons ainsi émis des hypothèses et les avons soumises à plusieurs études qualitatives ainsi qu'à un questionnaire. Ces analyses confirment que la représentation du risque d'érosion/submersion dépend de la manière dont les individus appréhendent et utilisent l'espace concerné, et plus précisément de ses dimensions spatio-temporelle, sociale et attitudinale.
Fichier principal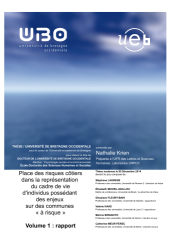 Thèse N. Krien Volume 1 Rapport.pdf (9.97 Mo)
Télécharger le fichier
Thèse N. Krien Volume 2 Annexes.pdf (1.61 Mo)
Télécharger le fichier