Boredom in Julien Green's work : from" violent disgust of everything" to "anguish of being alive"
L'ennui dans quelques romans de Julien Green : du « violent dégoût de tout » à « l'effroi d'être au monde »
This thesis aims at studying how boredom is depicked in five novels – Mont-Cinère, Adrienne Mesurat, Minuit, Le Malfaiteur, Le Mauvais Lieu – and how differently Julien Green painted it. In a first part, our analysis of the Greenian boredom from within and without has highlighted his characters' internal alienation mirroring their inability to live. Indeed, studying the characters' environment gives some insight into the scope of boredom. The town then becomes the canvass on which their boredom and suffering are displayed whereas the freedom they believe is theirs, is only an illusion. The house – a symbol of this confinement – is the metaphor of some escape beyond the self. The house is a prison cell where passions build up and run high. Greenian beings are involved with some immutability failing to confront them with their inability to ride out this boredom. A sobering conclusion as they cannot enjoy themselves : men are condemned to get bored. In the second part, the consequences of boredom on the characters have been highlighted. While this boring life prematurely makes the characters older, they desperately attempt to ground into an elusive reality through ridiculous habits and pointless activities, except filling the empty nothingness drowning them. Their hating others appears and influences their family : they cannot love or be loved ; from now on they will have to feel they are alive by oppressing and destroying others. The third part points out the proven consequences of boredom. This outburst of violence stems logically from some uneasiness originating in hatred. If the characters retreat for a while into the world of musing to escape from a stifling reality, this musing gradually keeps the real at bay and deprives them of all connections to reality. While creating their world, they relieve their suffering, their social maladjustment and the violence simmering in them. Mania and violence directly lead to murder as the solution to get rid of others, a source of boredom. But murder is never deliberately wanted and death appears as the unique solution : the character kills himself because – as Baudelaire wrote in his Correspondance générale he cannot bear the weariness of sleeping and the weariness of waking up.
Cette thèse porte sur l'ennui dans cinq romans de Julien Green (Mont-Cinère, Adrienne Mesurat, Minuit, Le Malfaiteur, Le Mauvais Lieu). L'enjeu est d'étudier la représentation de l'ennui dans des romans qui y consacrent tous une place différente. Dans une première partie, l'analyse du décor de l'ennui greenien, que ce soit l'espace extérieur ou l'espace intérieur, a permis de mettre en évidence l'aliénation intérieure des personnages greeniens qui reflète leur incapacité à vivre. L'étude du milieu dans lequel baignent les personnages permet en effet de se faire une idée de l'ampleur de l'ennui. La ville devient alors la toile sur laquelle se projettent leur ennui et leurs maux tandis que la liberté dont ils croient avoir pleine possession n'est qu'une illusion. Symbole de cet emprisonnement, la maison est la métaphore d'une impossibilité d'évasion hors de soi. La maison est un huis clos où se cumulent puis se déchaînent les passions. Les êtres greeniens sont face à une immutabilité qui ne peut que les mettre devant leur impuissance à sortir de cet ennui. Le constat est amer : il n'existe aucune possibilité de distraction, les hommes sont condamnés à s'ennuyer. Dans la deuxième partie, les conséquences de l'ennui sur les personnages ont été mises en évidence. Alors que tous les protagonistes sont prématurément vieillis par cette vie d'ennui, ils tentent désespérément de s'ancrer dans un réel fuyant par des habitudes ridicules et des occupations sans intérêt, à part celui de combler coûte que coûte le néant qui les engloutit. La haine d'autrui apparait et déteint sur leur famille : impossible d'aimer et d'être aimé, il s'agit désormais de se sentir exister en opprimant et réduisant à néant autrui. La troisième partie de la thèse est l'occasion de s'arrêter sur les conséquences avérées de l'ennui. Un déchaînement de violence est la conséquence logique d'un mal qui puise son origine dans la haine. Si les personnages se réfugient un instant dans le monde de la rêverie pour fuir un réel étouffant, cette rêverie les éloigne progressivement du réel et leur fait perdre toute attache à la réalité. C'est en créant leur monde qu'ils se soulagent de leurs maux, de leur inadaptation sociale et de la violence qui couve en eux. Ces folie et violence débouchent directement dans le meurtre comme solution pour se débarrasser d'autrui, cause de l'ennui. Mais le meurtre n'est jamais délibérément voulu et la mort apparaît comme l'unique solution : le personnage se tue parce que – comme Baudelaire écrivait dans sa Correspondance générale – « la fatigue de [s]'endormir et la fatigue de [se] réveiller [lui] sont insupportables »
Fichier principal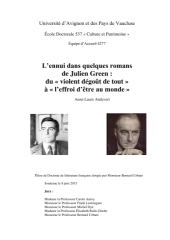 pdf2star-1454595971-Th--se---Ennui-Green-Andevert.pdf (7.01 Mo)
Télécharger le fichier
Origin : Version validated by the jury (STAR)