CORPORATE SOCIAL RESPONSIBILITY : WHICH CONTRIBUTION TO BIODIVERSITY CONSERVATION?
Responsabilité sociétale : quelles contributions des entreprises à la conservation de la biodiversité ?
As we are experiencing a major biological crisis, institutional actors and NGOs are calling on businesses to engage efforts aiming at halting biodiversity loss. The objective of the thesis is to analyze and evaluate the potential contribution of corporate social responsibility (CSR) to biodiversity conservation.A framework is developed to analyze to which extent a company takes in charge its ecological responsibilities. After characterizing CSR initiatives based on the case study of business commitments to contribute to the French National Biodiversity Strategy, a method is proposed to test whether business activities exert unsustainable pressures on ecosystems. It is assumed that compatibility with ecosystems' carrying capacities is a prerequisite for effective biodiversity conservation. This method, adapted from the "absolute environmental sustainability assessment" (AESA) approach, is applied in the context of research-intervention projects to the food portfolio of the mass-market retailer Groupe Casino and to the life cycle of two facilities of SARP Industrie specialized in the disposal and storage of hazardous waste. The comparison of the company's environmental footprints with the ecological constraints is used to draw a comprehensive strategy based on the mitigation hierarchy. As our results highlight the opportunity to strengthen the management of extended pressures through CSR, possible implications for sectors and public policies are discussed.
Alors que nous faisons face à une crise biologique majeure, acteurs institutionnel et ONGs exhortent les entreprises à s'engager pour enrayer cette érosion écologique. L'objectif de la thèse est d'analyser, évaluer et faire évoluer la contribution potentielle des entreprises à la conservation de la biodiversité dans le cadre de leur responsabilité sociétale (RSE).Un cadre d'analyse est développé pour évaluer la prise en charge par une entreprise de ses responsabilités écologiques en termes de moyens – les initiatives RSE a priori favorables à la biodiversité mises en œuvre – et de résultats – la compatibilité des activités de l'entreprise avec la conservation de la biodiversité. Après avoir caractérisé les initiatives RSE à partir de l'étude d'engagements d'entreprises endossés comme contributions à la Stratégie nationale pour la biodiversité, une méthode est proposée pour détecter si les activités d'une entreprise sont écologiquement non-durables. Le postulat est que le respect des capacités de charge des écosystèmes est un prérequis à la conservation effective de la biodiversité. Cette méthode, adaptée de l'évaluation environnementale absolue de la durabilité, est appliquée, dans le cadre de deux projets de recherche-intervention, au portfolio alimentaire du Groupe Casino et au cycle de vie de deux installations de stockage de déchets dangereux de SARP Industries. Des orientations stratégiques visant à éviter-réduire-compenser les pressions non durables sont proposées. Soulignant l'importance de renforcer la prise en charge des pressions étendues, cette thèse ouvre plus largement des perspectives pour les secteurs d'activité et les politiques publiques.
Fichier principal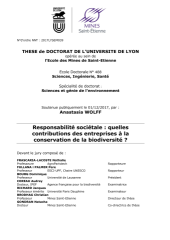 Wolff-Anastasia-these-diffusion.pdf (6.83 Mo)
Télécharger le fichier
Origin : Version validated by the jury (STAR)