Homogenization of Discrete Structures in Elasticity and Incremental - Applications to linear and non-linear continuous quasi-periodic lattice modelizations.
Homogénéisation de Structures Discrètes en Élasticité et en Incrémental - Applications aux modélisations continues linéaires et non-linéaires de treillis quasi-périodiques.
The work presented in this paper forms the basis of the discrete homogenization method. The main objective is to propose for a quasi-periodic lattice with articulated nodes a continuous modeling. The study was done within the framework of elasticity, for statics in small and large displacements, for incremental loadings and results are stated for free vibrations. The method uses asymptotic expansions and a general variational approach which allows to study at the same time the lattice beams, the lattice plates and the lattices 3D. The equivalent continuous medium is then easily identifiable analytically. These developments have been integrated into a formal calculation software and examples are given which show the practical interest of the method. Boundary conditions on the lattice may not be taken into account by continuous modeling, so a study of these conditions is done to find boundary layers at the edges of the structure. Another method of making double-series developments has been developed. It makes it possible to find the exact analytical deformation of any periodic beam (lattice or not) within the framework of the linear statics. These two methods are complementary.
Les travaux présentés dans ce mémoire constituent les bases de la méthode d'homogénéisation discrète. L'objectif principal est de proposer pour un treillis quasi-périodique à nœuds articulés une modélisation continue. L'étude a été faite dans le cadre de l'élasticité, pour la statique en petits et en grands déplacements, pour des chargements incrémentaux et des résultats sont énoncés pour les vibrations libres.La méthode utilise des développements asymptotiques et une approche variationnelle générale qui permet d'étudier à la fois les treillis poutres, les treillis plaques et les treillis 3D. Le milieu continu équivalent est alors facilement identifiable analytiquement. Ces développements ont été intégré dans un logiciel de calcul formel et des exemples sont donnés qui montrent l'intérêt pratique de la méthode. Des conditions aux limites sur le treillis peuvent ne pas être prises en compte par la modélisation continue, une étude de ces conditions est donc faite afin de trouver des couches limites aux bords de la structure. Une autre méthode consistant à faire des développements en double série a été développée. Elle permet de trouver la déformée analytique exacte d'une poutre périodique quelconque (treillis ou non) dans le cadre de la statique linéaire. Ces deux méthodes sont complémentaires.
Fichier principal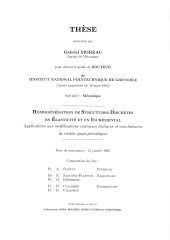 phdthesis-Gabriel_Moreau.pdf (22.27 Mo)
Télécharger le fichier
Origin : Files produced by the author(s)