Measurement of incoherently produced J/ψ polarisation in ultra-peripheral Pb--Pb collisions with ALICE and characterisation of the Muon Forward Tracker
Mesure de la polarisation des J/ψ incohérents en collisions Pb-Pb ultra-périphériques avec ALICE et caractérisation du Muon Forward Tracker
The primary goal of the ALICE experiment at the CERN LHC is to investigate and characterize the Quark-Gluon Plasma (QGP), a deconfined state of quarks and gluons, created in ultra-relativistic collisions of heavy nuclei. The heavy-ion beams at the LHC are sources of strong flux of quasi-real photons and thus provide a unique possibility to study also photo-induced interactions. These studies are usually performed in Ultra-Peripheral Collisions (UPC), in which the impact parameter is larger than the sum of the nuclear radii and the hadronic interactions are suppressed. The J/ψ vector meson is a bound state of charm and anti-charm quarks. Its photo-production is sensitive to the gluon contents of the target nucleus. The J/ψ meson is produced coherently when the incident photon interacts with the nucleus as a whole. In this case, its spin is expected to inherit the polarization of the photon. This is known as s-channel helicity conservation (SCHC). The incoherent production of J/ψ results from interactions between the photon and a single nucleon inside the nuclear target. It can be accompanied by nucleon dissociation. The measurement of the polarization of incoherently produced J/ψ allows to investigate possible deviations from the SCHC and eventually the dependence on the momentum transfer of the interaction. It has been performed using a large sample of Pb–Pb UPC collisions at √sNN = 5.02 TeV collected by the ALICE experiment in 2015 and 2018. The results are compatible with pure transverse polarization of incoherent J/ψ and also with the corresponding results for coherent J/ψ. They are consistent with the SCHC scenario, although possible momentum-transfer dependence of the polarization can not be excluded. The physics programme of the LHC continues with Runs 3 and 4. All the experiments have upgraded or will upgrade their detector systems. In ALICE, one of the major upgrades is the installation of a new silicon detector, placed in front of the muon spectrometer, called Muon Forward Tracker (MFT). Thanks to its about thousand large pixel sensors, the MFT will add vertex-determination capacity to the muon arm and thus significantly enrich the physics programme of the experiment. Calibration work has been done studying the analog and digital components of the sensor chips. The detector configuration has been studied in order to optimize the signal-to-noise ratio. The MFT has been entirely characterized and a detailed map of the dead and noisy pixels has been produced. Several parameter sets have been tested with the aim to improve and to streamline the data flux from the detector.
El objetivo principal del experimento ALICE, situado en el LHC del CERN, es estudiar y caracterizar el plasma de quark-gluones (QGP), fase deconfinada de los quarks y de los gluones, creado gracias a las colisiones ultra-relativistas entre los iones pesados. Los haces de iones pesados del LHC pueden ser considerados como una fuente de fo-tones casi-reales y ofrecen una posibilidad única para estudiar las interacciones foto-inducidas. Ese tipo de interacciones puede ser estudiada gracias a las colisiones ultra-periféricas en las cuales el parámetro de impacto es superior a la suma de los radios nucleares entre los dos núcleos incidentes a la colisión y las interacciones hadrónicas son casi completamente nulas. El mesón vector J/ψ es un estado compuesto de un quark charm y un antiquark charm. La foto-producción de este mesón está conectada con la presencia de un gluon en el núcleo blanco. El mesón J/ψ es creado en manera coherente cuando el fotón incidente interactúa con todo el núcleo blanco. En este ca-so, el espín del J/ψ tendría que tener la misma polarización del fotón. Este fenómeno es conocido como helicidad del canal-s (SCHC). La producción es llamada incoheren-te cuando surge de la interacción entre un fotón y un nucleón contendido en el núcleo blanco. Este fenómeno puede ser acompañado de la disociación del nucleón mismo en el núcleo. Las medidas de polarización del mesón J/ψ creado en manera incoherente permiten estudiar las desviaciones posibles de la teoría de SCHC y de, eventualmente, poner de relieve una dependencia de la interacción con la transferencia del momento. Esta medida ha sido realizada gracias a una gran cantidad de colisiones Pb-Pb ultra-periféricas, a √sNN = 5.02 TeV, obtenida en 2015 y en 2018 por el experimento ALICE.Los resultados son compatibles con una polarización exclusivamente transversa con respeto a las muestras coherente e incoherente. Estos resultados son compatibles con el escenario de SCHC, aunque no ha sido posible excluir ninguna dependencia entre la polarización y la transferencia del momento. El programa de física del LHC continúa gracias a periodos de adquisición de datos (Runs 3 y 4). Todos los grandes experimentos han mejorado o mejorarán sus siste-mas de detección. En el experimento ALICE, uno de los cambios más importantes ha sido la instalación de un nuevo detector en silicio, situado al frente del espectrómetro a muones, llamado Muon Forward Tracker (MFT). Gracias a su millar de sensores de pixeles, el detector MFT aumentará la capacidad de determinar el cumbre de produc-ción del espectrómetro, enriqueciendo de manera considerable el programa de física del experimento. Diferentes medidas de calibración han sido realizadas, estudiando de manera precisa los componentes analógicos y digitales de los pixeles situados en el sensor. La configuración del detector ha sido estudiada para optimizar la relación entre señal y ruido. El detector MFT ha sido completamente caracterizado y un mapa deta-llado del estado del arte de los pixeles ha sido producido. Adicionalmente, diferentes parámetros han sido estudiados para mejorar y organizar el flujo de datos provenientes del detector.
L'objectif principal de l'expérience ALICE au LHC du CERN est d'étudier et de caractériser le plasma des quarks et gluons (PQG), un état déconfiné de quarks et de gluons, créé lors de collisions ultra-relativistes de noyaux lourds. Les faisceaux d'ions lourds au LHC sont des sources de flux intense de photons quasi-réels et offrent ainsi une possibilité unique d'étudier également les interactions photo-induites. Ces études sont généralement réalisées dans les collisions ultra-périphériques, dans lesquelles le paramètre d'impact est supérieur à la somme des rayons nucléaires des deux noyaux en collision et les interactions hadroniques sont supprimées. Le méson vecteur J/ψ est un état lié des quarks charmé et anti-charmé. Sa photoproduction est sensible au contenu en gluons du noyau cible. Le méson J/ψ est produit de manière cohérente lorsque le photon incident interagit avec le noyau dans son ensemble. Dans ce cas, son spin devrait hériter de la polarisation du photon. Ceci est connu sous le nom de conservation de l'hélicité du canal-s (SCHC). La production incohérente de J/ψ résulte des interactions entre un photon et un nucléon à l'intérieur du noyau cible. Elle peut s'accompagner d'une dissociation du nucléon. La mesure de la polarisation du J/ψ produit de manière incohérente permet d'étudier les déviations possibles par rapport au SCHC et éventuellement la dépendance de l'interaction avec le transfert d'impulsion. Elle a été réalisée à partir d'un large échantillon de collisions Pb–Pb ultra-périphériques à √sNN = 5.02 TeV collectées par l'expérience ALICE en 2015 et 2018. Les résultats sont compatibles avec une polarisation purement transverse pour les J/ψ cohérents et incohérents. Ils sont compatibles avec le scénario SCHC, bien qu'une éventuelle dépendance de la polarisation avec le transfert d'impulsion ne puisse être exclue. Le programme de physique du LHC se poursuit avec les prises de données des Runs 3 et 4. Toutes les expériences ont mis ou mettront à niveau leurs systèmes de détection. Dans ALICE, l'une des améliorations majeures est l'installation d'un nouveau détecteur au silicium, placé devant le spectromètre à muons, appelé Muon Forward Tracker (MFT). Grâce à un millier de capteurs à pixels, le MFT ajoutera une capacité de détermination de vertex au bras muon et enrichira ainsi considérablement le programme de physique de l'expérience. Des travaux d'étalonnage ont été effectués en étudiant les composants analogiques et numériques des puces du capteur. La configuration du détecteur a été étudiée afin d'optimiser le rapport signal sur bruit. Le MFT a été entièrement caractérisé et une carte détaillée de l'état des pixels a été réalisée. En outre, plusieurs jeux de paramètres ont été testés dans le but d'améliorer et d'organiser le flux de données provenant du détecteur.
L'obiettivo principale dell'esperimento ALICE, istallato nell'LHC del CERN è quello di studiare e caratterizzare il Plasma di Quark e Gluoni (PQG), stato deconfinato dei quark e dei gluoni, creato grazie alle collisioni ultra-relativistiche degli ioni pesanti. I fasci di ioni pesanti dell'LHC possono essere considerati come delle sorgenti di fotoni quasi-reali ed offrono una possibilità unica per lo studio delle interazioni foto-indotte. Questo tipo d'interazioni può essere studiato soprattutto grazie alle collisioni ultra-periferiche, nelle quali il parametro d'impatto è superiore alla somma dei raggi nucleari dei due nuclei incedenti alla collisione e le interazioni adroniche sono quasi completamente nulle. Il mesone vettore J/ψ è uno stato composto da un quark charm e un antiquark charm. La foto-produzione di questo mesone è collegata alla presenza del gluone nel nucleo bersaglio. Quando il fotone incidente interagisce con tutto il nucleo, chiama-to nucleo bersaglio, è prodotto in maniera coerente. In questo caso, ci si aspetta che lo spin del J/ψ possieda la stessa polarizzazione del fotone. Questo fenomeno è no-to come elicità del canale-s (SCHC). La produzione è detta incoerente quando emerge dall'interazione tra un fotone e un nucleone contenuto nel nucleo bersaglio. Questo fenomeno può essere accompagnato dalla dissociazione del nucleone stesso dal nu-cleo. La misura della polarizzazione del mesone J/ψ prodotto in maniera incoerente permette di studiare le possibili deviazioni dalla teoria del SCHC e di, eventualmente, mettere in luce la dipendenza dell'interazione dal trasferimento dell'impulso. Que-sta misura è stata realizzata grazie ad un grande campione di collisioni Pb-Pb ultra-periferiche, a √sNN = 5.02 TeV, ottenuto dall'esperimento ALICE nel 2015 e nel 2018. I risultati sono compatibili con una polarizzazione esclusivamente trasversa sia per i mesoni J/ψ coerenti, che per quelli incoerenti. Questi risultati sono compatibili con lo scenario di SCHC, sebbene non è stato possibile escludere nessuna dipendenza tra la polarizzazione e il trasferimento dell'impulso. Il programma di fisica dell'LHC continua grazie ai periodi di acquisizione dei dati dei Run 3 e 4. Tutti i grandi esperimenti hanno migliorato o miglioreranno i loro sistemi di rilevazione. Nell'esperimento ALICE, uno dei cambiamenti più importati è stato l'in-stallazione di un nuovo rivelatore in silicio, collocato davanti allo spettrometro a muo-ni, chiamato Muon Forward Tracker (MFT). Grazie al suo migliaio di sensori a pixel, il rivelatore MFT aumenterà la capacità di determinare il vertice di produzione dello spettrometro arricchendo, in maniera considerevole, il programma di fisica dell'espe-rimento. Diverse misure di calibrazione sono state effettuate, studiando in maniera accurata le componenti analogiche e numeriche dei pixel situati nel sensore. La confi-gurazione del rivelatore è stata studiata per ottimizzare il rapporto segnale-rumore. Il rivelatore MFT è stato completamente caratterizzato e una mappa dettagliata dello sta-to dell'arte dei pixel è stata prodotta. In aggiunta, diversi parametri sono stati studiati per migliorare ed organizzare il flusso di dati provenienti dal rivelatore.
Fichier principal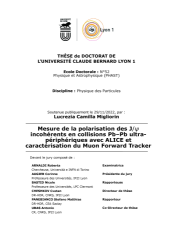 TH2022MIGLIORINLUCREZIA.pdf (25.06 Mo)
Télécharger le fichier
Origin : Version validated by the jury (STAR)